14 January 2019
EP-Dashboard - Tracking Found Work on Turnarounds Made Easy
While working on a turnaround project where our client was using our EP-datawarehouse and EP-dashboard tools for the first time, we were already showing them green up reports, inspection summary reports, performance curves and productivity curves, but had been tweaking them to fit their needs during the turnaround, which was quite beneficial to their team.
I was providing assistance to the turnaround team and started entering Additional Work Requests (AWR's) as they came in from the AWR manager. The process required several steps during its life and we found a dashboard would be helpful in keeping track of the process, since we were getting questions about where AWR's were in the process. An AWR entered the process when it was received from the field personnel, assigned a number and entered into a master spreadsheet by the AWR manager. The spreadsheet listed several pieces of information, but the information we needed for the dashboard was the AWR#, Date Submitted, Approval Status, and the Description.

When the AWR was approved, it was sent to the schedulers to enter a placeholder into the schedule. After the placeholder was entered, a planner would enter the necessary activities and resources for the AWR. The activities would then be started and completed just like an original activity.
My IT colleague was able to use data from the master Excel spreadsheets and data that was snapshotted daily using the EP-datawarehouse from P6 to create the EP-dashboard below. The dashboard shows the AWR's by project and using the snapshot data, indicates whether the AWR had been approved, if the placeholder activity was entered in P6, if the AWR had been planned and if so, if the activities had been started and/or completed. The creation of the dashboard took less than a day.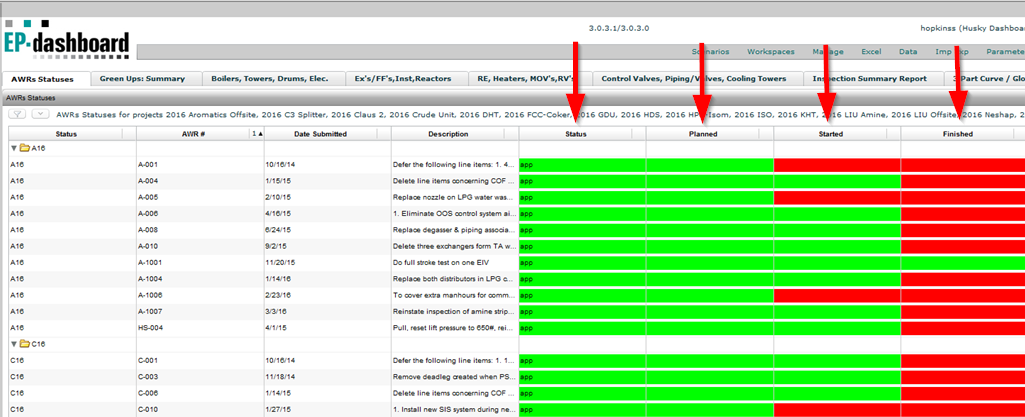 By using this newly created dashboard, we quickly discovered there were errors in several projects, where the AWR numbering schema did not match the project it was entered into.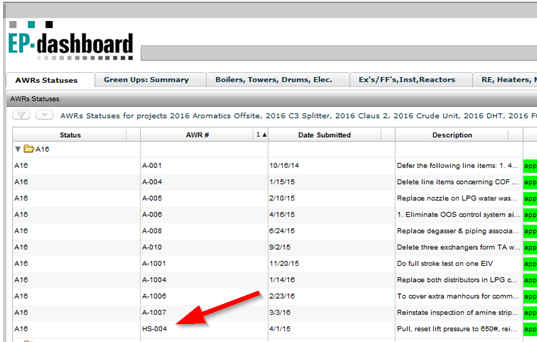 We were able to correct all the errors concerning AWR's that had previously existed, sometimes for over a year, within a day. We were not only able to create an extremely helpful dashboard, but we also improved the data integrity of the projects.