EP-dashboard Reporting Tool
A data visualization tool for Primavera P6 and other applications that enables the effective evaluation of project performance, trends and issues
Create boardroom quality reports, graphs and charts of real-time and historical data from multiple sources
Combine Primavera P6 dashboards with our reporting database EP-datawarehouse to centralize data and achieve greater flexibility
Give stakeholders access to dashboards of simple to understand, on-demand project information
Track and monitor KPIs in real-time from multiple data sources
Customizable to fit your specific business intelligence needs
Problem
Companies have a need to securely view their performance in real-time across a range of projects at multiple levels. However, viewers are often dispersed geographically, data is often scattered across different databases and important information can even be located outside of the corporation as third party data.
Many applications have reporting functionality but are commonly restricted to the data residing in the application's database. Accessibility to this information is also limited when viewers require a license to view it.
Solution
EP-dashboard is Emerald's innovative solution to enterprise reporting. EP-dashboard was born out of our clients' need to display enterprise KPI data that other systems like SAP, Peoplesoft or Primavera cannot. EP-dashboard delivers true centralized reporting by gathering data in real-time from multiple enterprise systems. The software features advanced graphing options and has role-base configuration to help clients secure their data.
ROI
EP-dashboard pulls KPI data from a variety of applications and databases to generate powerful dashboards. By centralizing the financial, schedule and contract data, the total health of a project can easily be evaluated in order to make informed business decisions. EP-dashboard is chosen by Emerald's clients for its comprehensive charting capabilities, simple integration and intuitive user interface.
For more information, please review:
EP-dashboard for Enterprise Reporting Brochure (PDF)
EP-dashboard Featured Chart: Racetrack Diagram For Project Summary Highlights (PDF)
Charts
EP-dashboard's Featured Chart: Racetrack Diagram for Project Summary Highlights
Visual Summaries
EP-dashboard's Racetrack Diagram allows users to quickly pull summary level project data into a visual format that is easy to control and consume. This enables the team to identify potential bottle necks by analyzing work overlaps and area congestion which results in the ability to make informed decisions regarding project timelines.
Integrated Planning
With EP-dashboards, Emerald's clients no longer need to gather entire project teams in the same location to complete pull planning sessions. All team members are able to view and change the same visual chart from remote and dispersed locations. The schedule can be built out and manipulated directly in P6, and changes are reflected in real-time in the EP-dashboard chart. The chart reduces the potential for errors and eliminates the need for double data entry because the resulting schedule is developed in its final format during the pull planning session.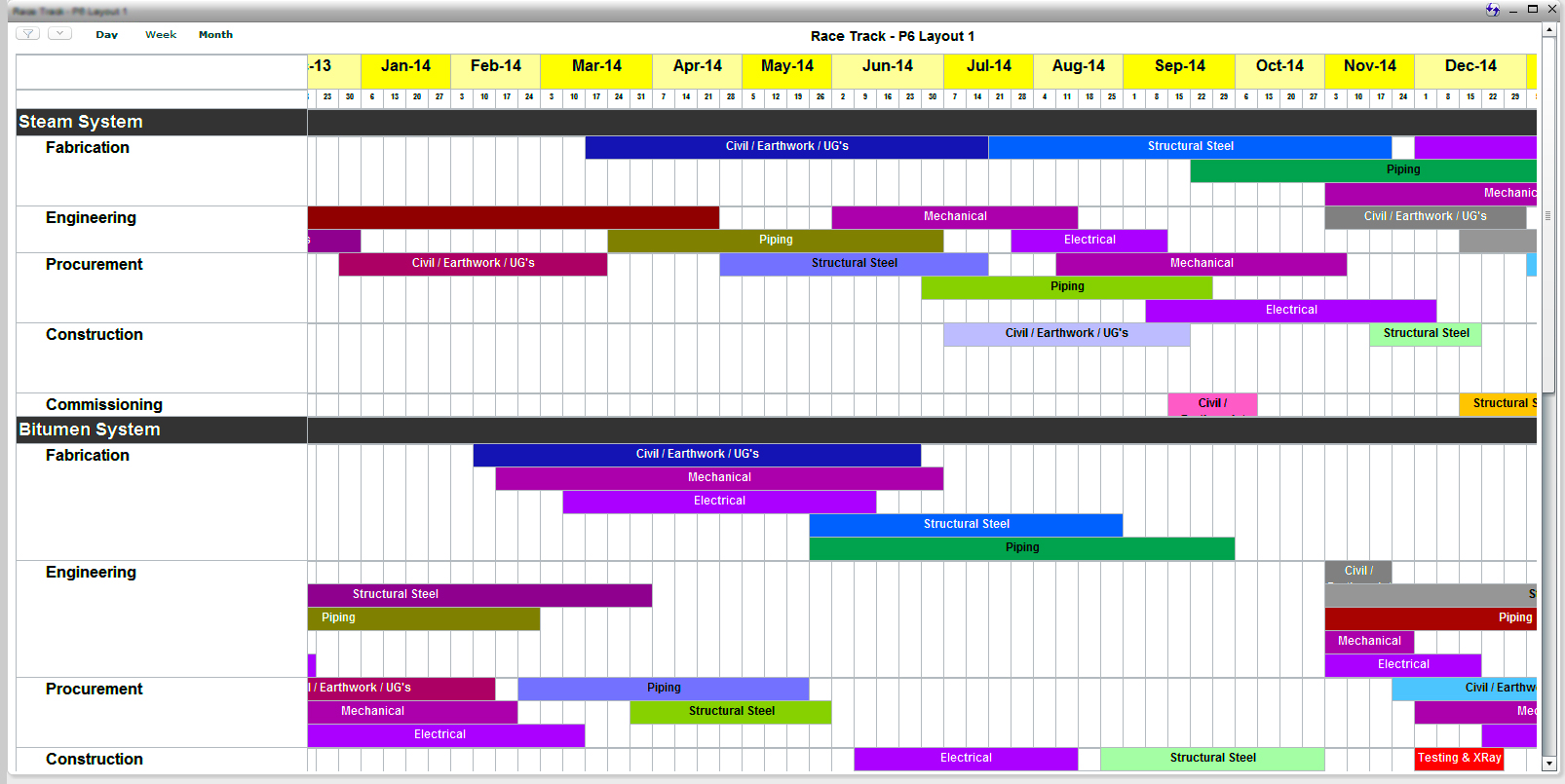 For more information please review:
EP-dashboard Featured Chart: Racetrack Diagram For Project Summary Highlights (PDF)
EP-dashboard for Enterprise Reporting Brochure (PDF)
Chart Samples