Turnaround Services
Innovative Process Improvements For Specialized Projects
Proven best practices, developed over 20 years in business
Experienced staff who are Primavera P6 and turnaround experts
Software toolkit designed specifically for streamlining turnaround processes with Primavera P6
Emerald's Turnaround Blogs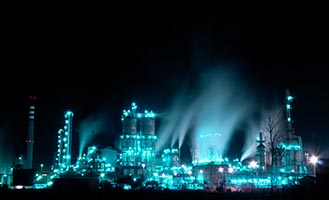 Problem
Shutdowns and turnarounds are very specialized projects and turnaround planners and schedulers have increasingly difficult jobs to undertake. They are faced with shorter or larger turnarounds, major project tie-ins, lack of trade resources, aging refineries, and the need to be trained quickly and effectively. Therefore, managing such projects to get the refinery back into production and on schedule is of paramount importance to an organization, as well as project visibility. The only way to manage these challenges effectively is through the use of a proven turnaround methodology which uses world class tools and processes.
Solution
Emerald understands the demands of the turnaround management process and has developed a Turnaround Methodology which uses specific tools and processes to ensure the turnaround is as smooth as possible. Emerald's Turnaround Package includes:
Emerald's Methodology

Emerald has developed a proven methodology based on over 20 years of experience

Training

T100 – Turnaround Management Using Primavera P6. A hands-on Primavera training course designed specifically for turnarounds.

Emerald's Toolkit
Integrations

Integrate your CMMS or EAM system to P6 (SAP, Maximo, JDE, etc.). Includes data conversion from legacy systems while maintaining historical information.

Staff Augmentation

Have one of Emerald's experts on site to provide assistance and expertise during your turnaround.

Turnaround In-A-Box

Primavera P6 and Emerald's toolkit are delivered ready to go on the Oracle Database Appliance, an engineered plug and play system.
ROI
Emerald's turnaround methodology contains standardized reporting processes; although planning is done at a detailed level, not all reports need to be as detailed. Providing easy, user friendly reports with interactive dashboard graphs, summary level milestone schedules, and earned value reports is a sure way to keep your company on track and on budget, while keeping all the stakeholders involved in the turnaround. Drill-down pivot table reports can be instantly generated by plant, equipment type, contractor, planner, foreman or any other required coding structure, allowing all parties involved with the turnaround to remain included throughout the whole process.
Emerald's Experience
Emerald has implemented turnaround management systems and processes for clients across North America over the past 15 years. Our staff has extensive experience working Turnarounds (TA) and can implement processes that maximize the capacity of the tools and software used. These processes have been proven over many turnarounds with many clients.
We have developed a Turnaround implementation methodology to get clients up and running quickly, along with a support system to make them successful. In a recent example, we had four months to convert a client's legacy data to P6, train the users and implement P6 to be ready for the TA. Using our P6-Loader , CASP/Immpower conversion program and EP-dashboards, we had the client ready for oil out on time.
We also provide turnaround specific training classes that build on generic Oracle University P6 software training and offer practical tips, tricks and examples, as our trainers who have worked the turnarounds can give real life examples of what works and what doesn't. Our clients include:
Suncor – Denver, Fort McMurray, Sarnia, Montreal
Agrium – Carseland, Fort Saskatchewan, Kenai, Idaho, Redwater, Vanscoy Petro-Canada - Edmonton
BP – Cherry Point, Toledo Shell – Montreal, Worldwide Standards, Scotford
Syncrude – Fort McMurray CCRL – Regina Refinery/UpgraderYara (SaskFerco) – Belle Plaine
Encana – Cold Lake NovaChemicals – Sarnia facilities North Atlantic Refining
OPG - Pickering Bruce Power SaskPower – Boundary Dam TransAlta – Genesee
Imperial Oil – Edmonton, Nanticoke Spectra Energy – EmpressHusky Energy - Lima
Tesoro - Carson
For more information, please review the Primavera Turnaround Methodology Brochure.