Primavera P6 and AssetWorks FleetFocus M5 Integration
Optimize your fleet maintenance and facility operations
Achieve efficient long-term planning for your fleet's routine maintenance
Decrease response time and quickly resolve unexpected problems
Remove the inherent difficulty in complex scheduling and get the best plan possible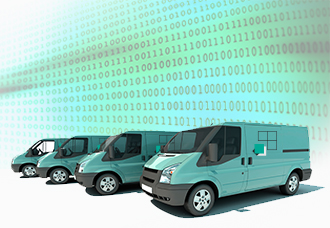 Problem
AssetWorks FleetFocus M5 is a leader in fleet management software. FleetFocus M5 effectively tracks what maintenance needs to be done and when, but scheduling how the maintenance will be done can be a real challenge. Efficient, long-term planning for known service requirements (routine maintenance) of a fleet is difficult without considering the unknown requirements that can occur, such as emergency repairs or even misplaced vehicles. Throw specialty or heavy duty vehicles that can only be serviced in certain bays or even certain facilities into the mix and now you have somewhat of a scheduling nightmare.
Solution
Emerald Associates has developed an integration that automatically retrieves vehicle maintenance data from the FleetFocus M5 software and incorporates it into a larger scheduling scenario using Primavera P6 Planning and Scheduling software.
The FleetFocus M5 integration with Primavera P6 can track all fleet maintenance activities and schedule all necessary functions needed to be performed by your facilities. This larger scheduling scenario defines how to conduct your fleet maintenance in the most efficient manner. FleetFocus M5 effectively tracks what kind of maintenance needs to be done on a vehicle and when, and pairing that vehicle data with Primavera P6 allows for an incredibly detailed understanding of how maintenance will be scheduled and accomplished within a respective facility. Other benefits include error controls that indicate if a work request was processed successfully, and if not, why.
ROI
With the FleetFocus M5 to P6 integration there is improved communication and efficiency at every step of the maintenance process, from planning to completion. Those responsible for scheduling can have peace of mind that the work is distributed in the best possible way. The FleetFocus M5 to P6 integration takes your scheduling nightmare and turns it into an organized system that hums just as nicely as the vehicles you've serviced. Anyone dealing with ongoing vehicle maintenance and complex scheduling can greatly benefit from the larger scheduling scenario the FleetFocus M5 integration with Primavera P6 integration provides.
Emerald Associates has a long history of successful Primavera integrations. If you would like more information on how integrating your fleet management software with Primavera P6 can help your organization, please contact us or submit the form on your left.