P6-Auditor
Display information from Primavera P6 audit tables in a user-friendly format
A web application that gives you better control of your P6 EPPM database
Have the ability to effectively report on the changes to your database and the activity of all of your users
Get data from database level records in easy-to-use pre-built reports for auditing, usage, licenses, etc.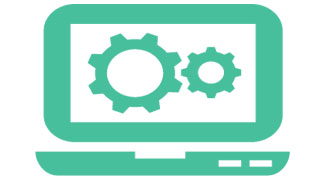 Problem
Imagine these 3 scenarios occurring in your P6 production system:
In a large database with multiple users:

A resource goes missing which changes earned value calculations across hundreds of projects.
A Global Activity code gets deleted which breaks many corporate standard layouts.
A WBS or EPS node is moved and suddenly users can't log into their projects.
Someone can't schedule a project because a new circular relationship was added.

Is this just a training issue or is someone maliciously deleting information? Who needs more training? How can you tell?

In a large organization with multiple P6 databases, you are informed that Oracle wants to audit your P6 licenses:

Which users are actually licensed to which databases?
Are there non-active users who haven't been using P6 in the past 30 days?
How many times has each user logged in the past 30 days?
Who is connected to each database right now?
If you have concurrent licenses, how many are being used at any one time?

You have a database that has been running reliably for a number of years. Over time a lot of projects have been added and removed and you need to clean the database up:

You want to remove a Calendar, but which projects might be using it?
How is the activity code dictionary being used?
Which roles and resources are assigned to each project?
Is someone actually using that UDF?
Solution
Primavera does an excellent job of auditing changes made to a P6 database, and of tracking the users who are logging in and out of the P6 client or the API. Unfortunately, it is all contained in database level records and consuming that information and displaying it in a format that makes sense is a challenge.
Emerald Associates has developed a web application called the P6-Auditor, which can display the information from the P6 audit tables in a very user-friendly format.
You can run one of the pre-built reports that display a view of all audit reports available in your system:

Or you can run it quickly just to look for specific changes. In the example below, I want to see the Resource Audit report, and only the Updates made by the user "raviw":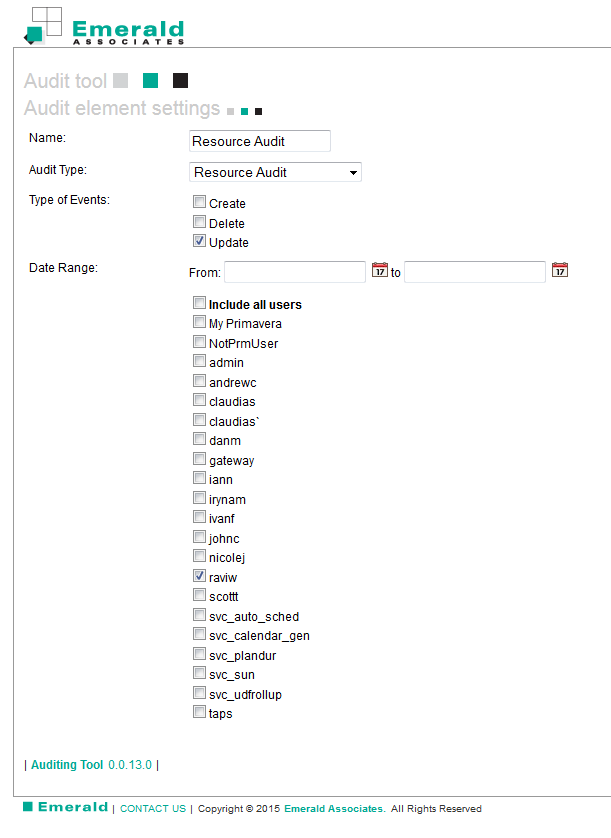 Running this report now produces the following output:

This is the detail in the columns that display which fields have changed:

Each field that has changed in the table is shown with its old and new value. There is a button that lets you download the contents of each report in Excel, so that you can save it for future reference, or even see it in a different format.
The P6-Auditor comes with these reports:
Auditing reports for the Project, Resource, OBS, EPS, UDF Type, Activity Code Type, Activity Code, Calendar and Users tables. More reports can be added by Emerald or by an user with basic SQL knowledge.
Usage reports that display where Calendars, UDF Types, Activity Code definitions and dictionaries, Roles and Resources are being used. The report displays the projects where each of these objects is being used.
User reports that show which users are licensed where, who is active right now, the last login date and how many logins each user performed in the past 30 days.
This tool gives you better control of your P6 EPPM database across your organization.