Safran risk
Cost and Schedule Risk Analysis with Safran Risk is the next generation of probabilistic analysis tools - one with the unique ability to create both cost and schedule risk models and map the two together.
Seamless and robust cost risk analysis
The intuitive Safran Risk interface encourages best-practice processes
Easily integrate Primavera P6 or Microsoft Project data
Comprehensive risk correlation including probabilities and impacts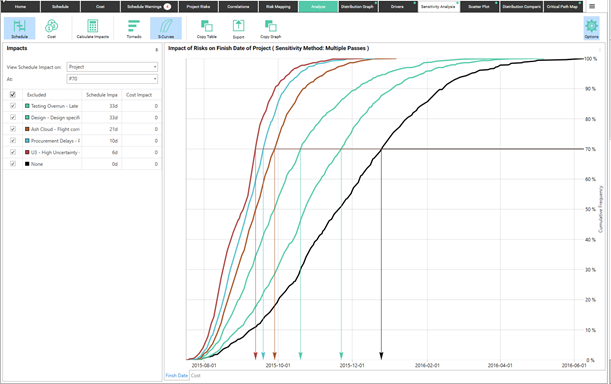 Problem
Schedule risk analysis has been around for a number of years and has proven to be a useful tool in predicting and managing the risks that will prevent a project for being completed on time. Companies who have completed risk analysis exercises on their projects have found that their projects are more successful and the project team is better prepared to manage change before it becomes a crisis.
Companies that have success in completing one-off risk analysis naturally want to move to a standardized risk process and conduct schedule risk analysis on more projects - they want to mature in their risk process. Additionally, these companies realize that the costs and schedule risk models are intrinsically linked, and the two models need to run together, rather than as separate exercises.
Solution
Designed by the project risk experts that brought Pertmaster™ to market, Safran Risk seamlessly combines advanced project schedule risk, duration risk, and cost risk analysis for ultimate analysis integrity.
Safran Risk gives you access to robust, schedule risk and cost risk analysis together on one platform, for powerful integrated analysis and significant time and cost savings. Safran has a full range of risk features - from maintaining a simple list of risks in a spreadsheet to performing a detailed quantitative risk analysis for both schedule risk and cost risk. No more "translating" cost information into a format the schedule can understand.
Safran Risk also aids in improving a company's risk maturity by making standard processes easy to manage and by providing a common database for all risk models. Instead of maintaining risk data in four or five different applications, Safran Risk holds all risk information in one place. Safran Risk is also the only commercially available tool that meets the requirements to achieve Level 5 of Dr. David Hulett's Risk Maturity Assessment.
ROI
From a process perspective, combining these systems is more than just convenient. It actually saves you significant time that can be used to perfect your project plan. Based on the average project, we estimate that you will easily save hours if not days or weeks over the course of the life cycle of a typical process by streamlining your cost and schedule risk analysis.
Through its streamlined approach, Safran Risk gives you the ability to run more scenarios in the same amount of time. More what-ifs ultimately mean a more complete picture of what you're trying to accomplish. From the standpoint of time and money, integrated cost and schedule is better than doing them separately. There are fewer tools, less data issues, more time, and more scenarios. As a result, Safran Risk delivers a project plan that yields the best ROI.
Video
free trial