I'm Ian Nicholson, VP Solutions at Emerald Associates. I have been working with Oracle Primavera Risk Analysis (OPRA) since 2001 when it was Pertmaster, Emerald being the exclusive Canadian distributor for Pertmaster until their acquisition by Primavera in 2006.
In this series of blogs, I will explain why I feel that all OPRA users should upgrade to Safran Risk (SR).
Part 2: User Interface
In my last blog post, I discussed the technology used in OPRA vs SR. As I mentioned in that blog, the biggest complaint that we hear about OPRA is that the technology cannot support a large risk model. The second most common complaint that we hear is that the user interface is clunky and moving reports and layouts from one model to another in order to generate consistent outputs is tedious.
When OPRA (at the time called Pertmaster) was re-introduced as a Risk Analysis tool in 2001 (it had previously been a CPM scheduling tool), it had a pretty decent user interface (UI) for the time. It looked like a typical CPM scheduling tool that had an extra "Risk" menu for Risk inputs and extra items added under the "Reports" menu for Risk outputs.
For most risk users of the time, the UI was fine because Schedule Risk Analysis (SRA) was a new and relatively immature concept that was performed infrequently by relatively few people. These users would learn where to find the required items in the Risk and Reports menus. Hey, if you could master P3 or Artemis, Pertmaster should have been a walk in the park! Besides, compared to Primavera's Monte Carlo add-on, Pertmaster's UI was a big step forward in usability.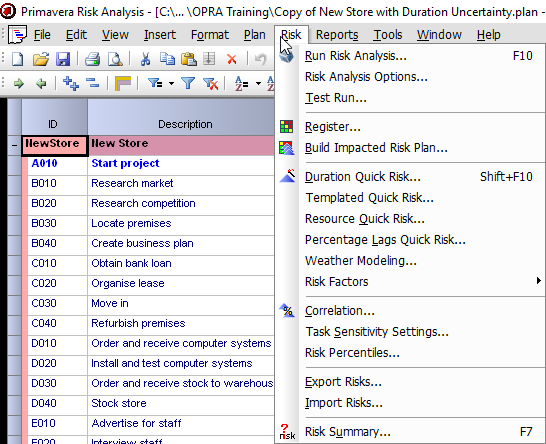 OPRA's Risk
OPRA's Risk Menu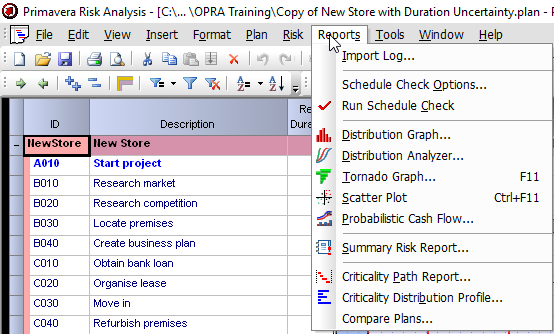 OPRA Reports menu
After nearly 20 years of SRA, things have changed significantly. We now have defined risk maturity models, organizations have made SRA part of their project management methodology, and project teams build their own risk models. More people need to be able to work in the tool and getting them up to speed quickly and easily requires a logical workflow inside the tool.
When Safran developed Safran Risk (SR), they used their experience of the original Permaster's development to modernize their new tool's User Interface and make it easier for users to understand and learn. The first step that they took was to change from a menu based input model to a workflow based model. This means that SR has replaced the menu based system with a tab based sequential workflow system. The user moves from left to right as they build the risk model.

Safran Risk tab based navigation.
The other item of note here is that all of the functionality of Safran's scheduling tool is also here (a big advantage of building the risk engine on top of the scheduling package). Users can create layouts and filters and share them between users and projects, making application of standard processes and reports much easier than in OPRA.
Does an updated UI make the upgrade worthwhile? Not in and of itself, but it does make training new users much easier and makes it much less likely that a user will miss a step in the process. I personally find that Safran's UI just makes everything easier. I still occasionally talk to P3 users who recall that its UI was the best ever, but I doubt that they would want to go back and work with it today. I'd love to have a classic sports car (say a TR6) in my garage, but I sure wouldn't want to have to drive one to work in the Canadian winter!
In my next blog post, I'll discuss the benefits of integrated cost and schedule risk analysis.