TAPS - Turnaround Progressing System
Primavera P6 Barcode Updating - Reduce Activity Statusing Time Up To 75%
New Release of TAPS v10 - Cloud Enabled
Built with HTML5- Compatible with all browsers and mobile devices
Fast and error-free updating of P6 activities
Use less experienced or clerical staff for updating
Fast and simple implementation with virtually no training required or help needed from IT
Latest Version - Highlights
Welcome to TAPS! Enhance the speed and accuracy of your Primavera P6 activity updating.

Give your team an easy to use report, even in the field; with activities, resources or steps for scanning into TAPS.

TAPS supports the scanning of all activity types: unit, duration, and physical percentages.

Resource Scans are now part of TAPS functionality. Need to update resource actuals, remaining, or complete percentages - you can now scan them!

New in Version 10: Are you updating steps in your schedule? You can now scan them into TAPS, making step updates much quicker.
Problem
Turnarounds, shutdowns and outages (TSOs) are high-profile, complex and time sensitive projects. With millions of dollars on the line each day in lost production revenue and labor costs, it is imperative that the TSOs be completed on schedule.
Typically, TSO field personnel keep notes of activity progress and report the progress to a scheduler. The scheduler then needs to enter that progress into Primavera. This process can be error-prone and consume large amounts of a skilled and expensive scheduling resource's time. That time could be much better spent analyzing the schedule, detecting issues, and developing mitigation strategies.
Solution
TAPS uses barcode scanning technology to eliminate the need for lengthy manual data entry when updating your Oracle Primavera P6 schedules. Simply use a barcode scanner to find, start and update any activity within the schedule in two fast scans.
With TAPS, time is no longer wasted searching for one activity among thousands in P6 and manually updating the start, finish and percent complete of each activity.
ROI
Emerald's Turnaround Progressing System (TAPS) increases your accuracy and cuts your shift statusing time by 75%. Shift reports are delivered on time, allowing management to make informed decisions based on timely insight into the current health of the TSO. Less experienced, less expensive resources can take on the job of updating tasks, while experienced schedulers are freed to analyze and act on the latest data. As a result, issues are avoided or mitigated before ballooning in to larger more expensive problems and the TSO remains on schedule.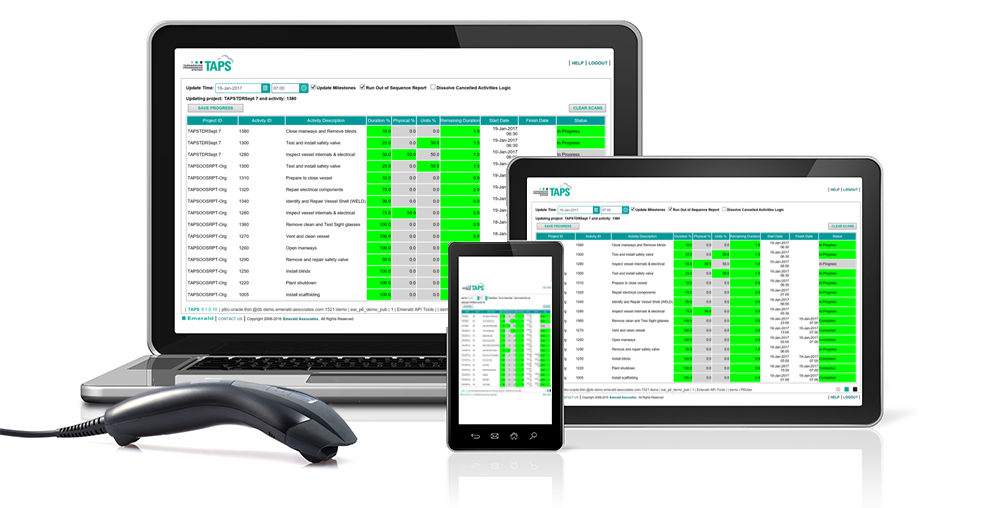 Experience
Emerald Associates has implemented TAPS® for many clients including those in the oil & gas, petrochemical, agribusiness, and power generation industries. Here is what a few of our clients had to say:
"With virtually no training needed and a simple installation, TAPS is a cost effective way to boost my team's productivity.
We can easily update a large detailed schedule which allows us to gain valuable visibility into performance and issues in real-time. This frees up schedulers time to analyze and mitigate issues before they balloon into larger more expensive and time consuming problems, which can make the difference in getting back into production on schedule.
TAPS has paid for itself several times over and I am extremely happy with this low-cost, real-time solution."
- Kevin McAlpine, Turnaround Sr. Coordinator, NOVA Chemicals
"We have used this system for progressing Primavera scheduled activities for 3 turnarounds now and I and everyone who has used it for updating are most favorably impressed with the speed and accuracy achieved. What used to take an experienced user 1 ½ hours to 2 hours to update manually, now can be done in ½ an hour to ¾ of an hour and can be done accurately by a less experienced user."
- Lead TA and Construction Scheduler, Suncor Energy
Clients currently using TAPS include:
Yara - Saskferco Products Inc.
Petro Canada
Nova Chemicals Corporation
Suncor Energy Inc.
BP Products North America
Nexen
Enmax Energy
Shell Canada
Consumers Co-Operative Refineries Ltd
Agrium Inc.
Resources
Brochures
Videos
TAPS - What's New in Version 8
TAPS - Turnaround Progressing System for P6 Updating
Blog
No items found.