Put the Best Tools in Your Scheduling Tool Kit
Your project schedule will be created in P6, and you are looking to provide the best schedule tools for your project team. What can you add to your team tool kit to assist the project team, address building the schedule, monitor schedule quality, utilize options for updating the schedule and make reporting quick and easy? Let's look at a few examples for some food for thought.
In the planning stage, what process do you use to put the schedule information into P6? Is the schedule information electronically loaded from another system, imported, or perhaps manually entered? If you have project information you need to import into P6, that is just one of the many tasks
P6-Loader
can assist with. P6-Loader is a flexible and secure solution that automates Primavera P6 data extraction, loading and updating. P6-Loader gives project users and administrators the ability to import and export nearly every data element available in P6, allowing for the movement of data back and forth between Primavera P6 and Microsoft Excel in a controlled manner.
Working with your project schedule not just in the execution stage but in the planning stage as well, monitoring for schedule quality is essential. For example, missing codes, logic, resource assignments, relationship types and numerous other checks can be handled in
P6-QA
. The P6-QA Tool removes the burden of manual schedule and business process analysis by automatically identifying deficiencies in Primavera P6 schedules based on scheduling best practices, industry standards, and user introduced business process requirements. Analysis and feedback are available at all levels in Primavera P6 including: Project, WBS, Activities, Resource Assignments, Expenses, and Steps.
Once your schedule has been created and optimized, create your baseline and you are ready for execution. How are you planning to update your schedule? You may be interested in some of the options that are available - manual updates are not the only option. You don't have to use the same update process on every activity in a single schedule. Use the option that will work best for the updates. An example: If your project contains engineering design activities, those activities may best be updated manually, but if you also have activities in the same project that you decide
TAPS
Mobile would work best to address the updates on, it's not a problem to use both in one P6 project file.
Once your project is in execution, you are looking at options for communication of project information in a quick and easy to digest format. Communication of project information has to follow a process that provides timely, accessible, and easy to digest data. Self-serve dashboards provide current project information in an easy to digest format. Consider providing your team with Self-Serve Dashboards. These dashboards are available using
P6-Reporter
and can be displayed using a number of reporting tools. By using filters and pick lists, users can easily focus on exactly the data they require.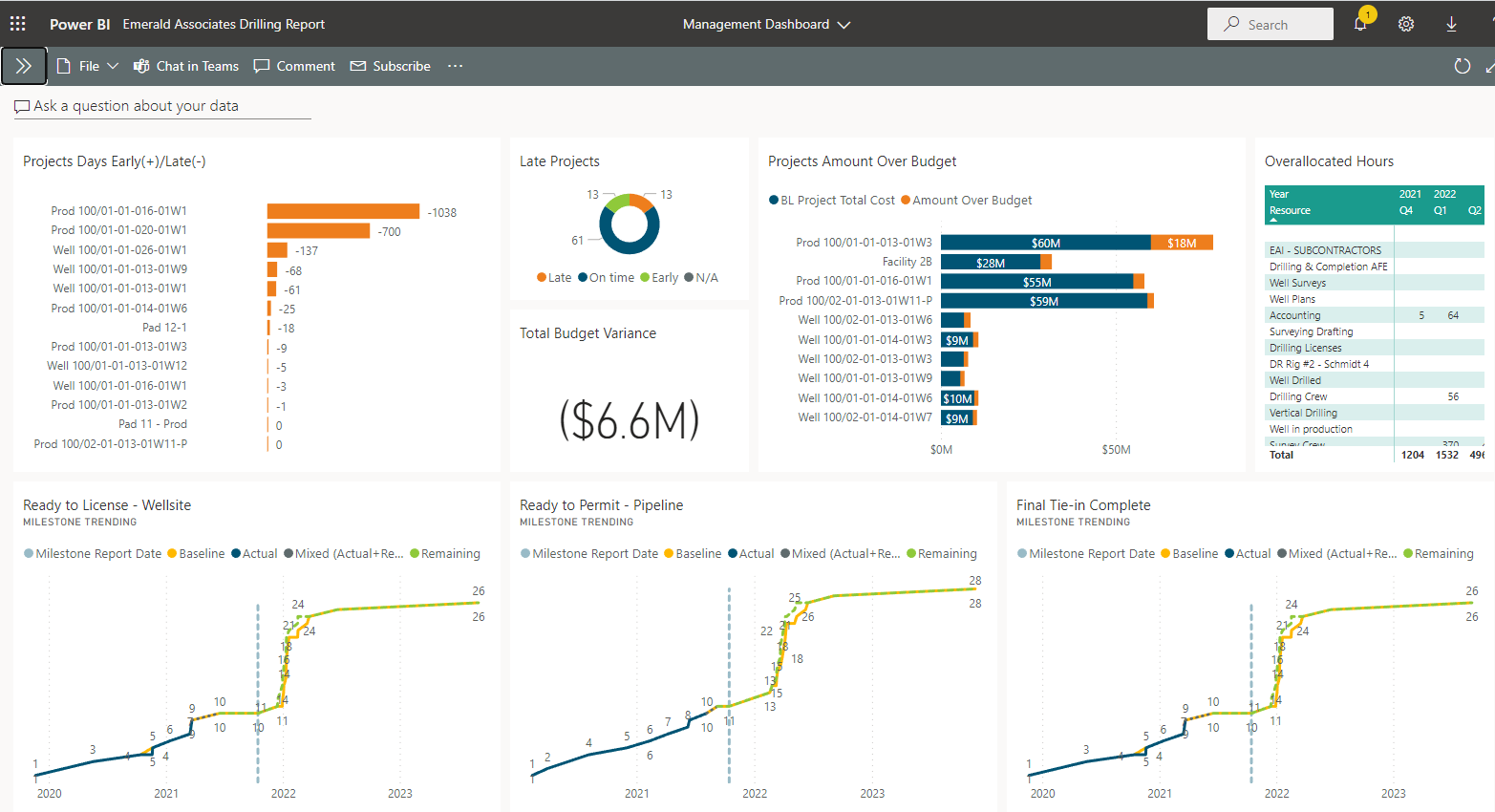 Management Dashboard screenshot above.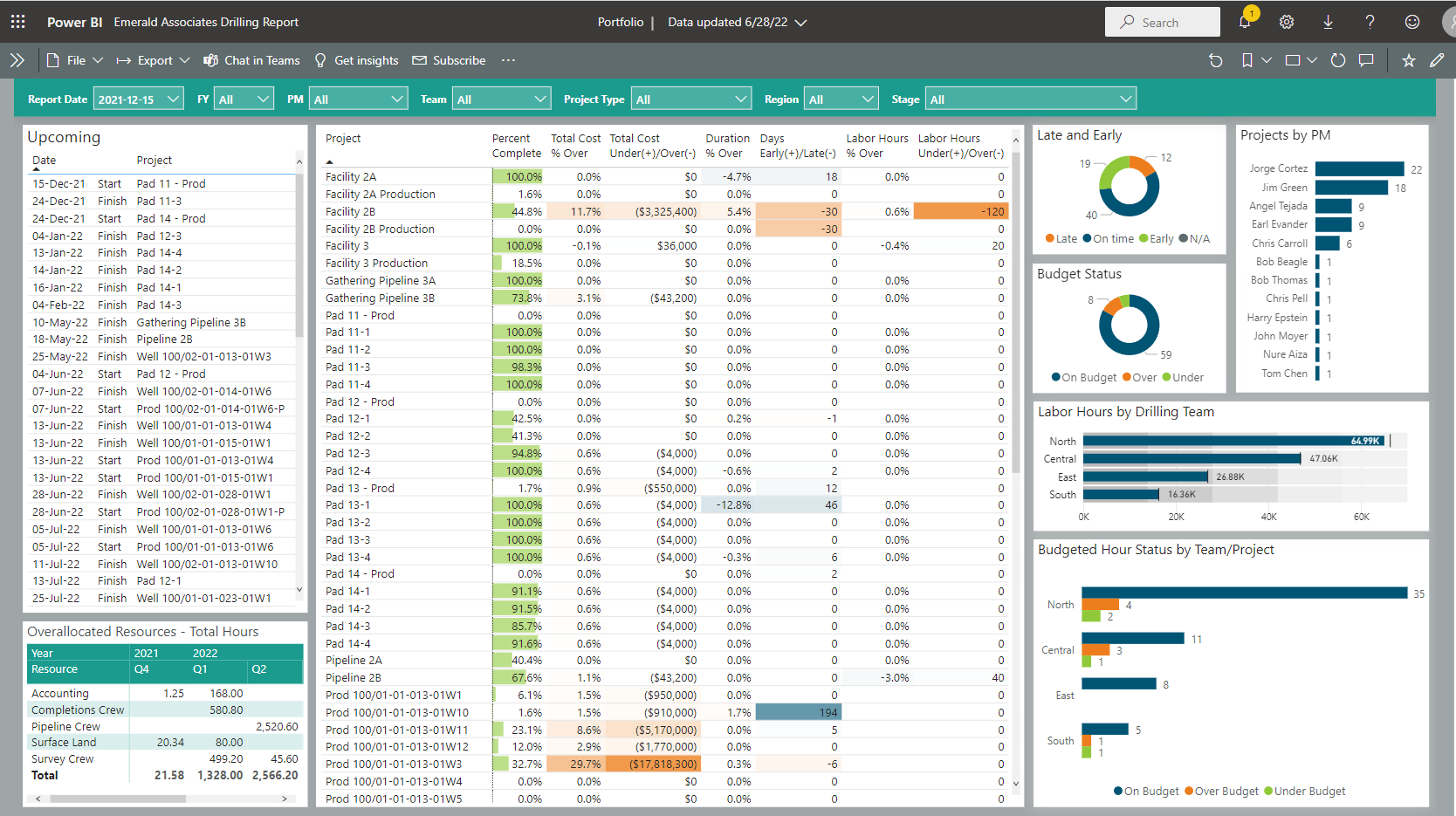 Portfolio Dashboard screen shot (above). At your fingertips, you have ready access to portfolio/project information including gradient color coding to assist with quickly identifying status.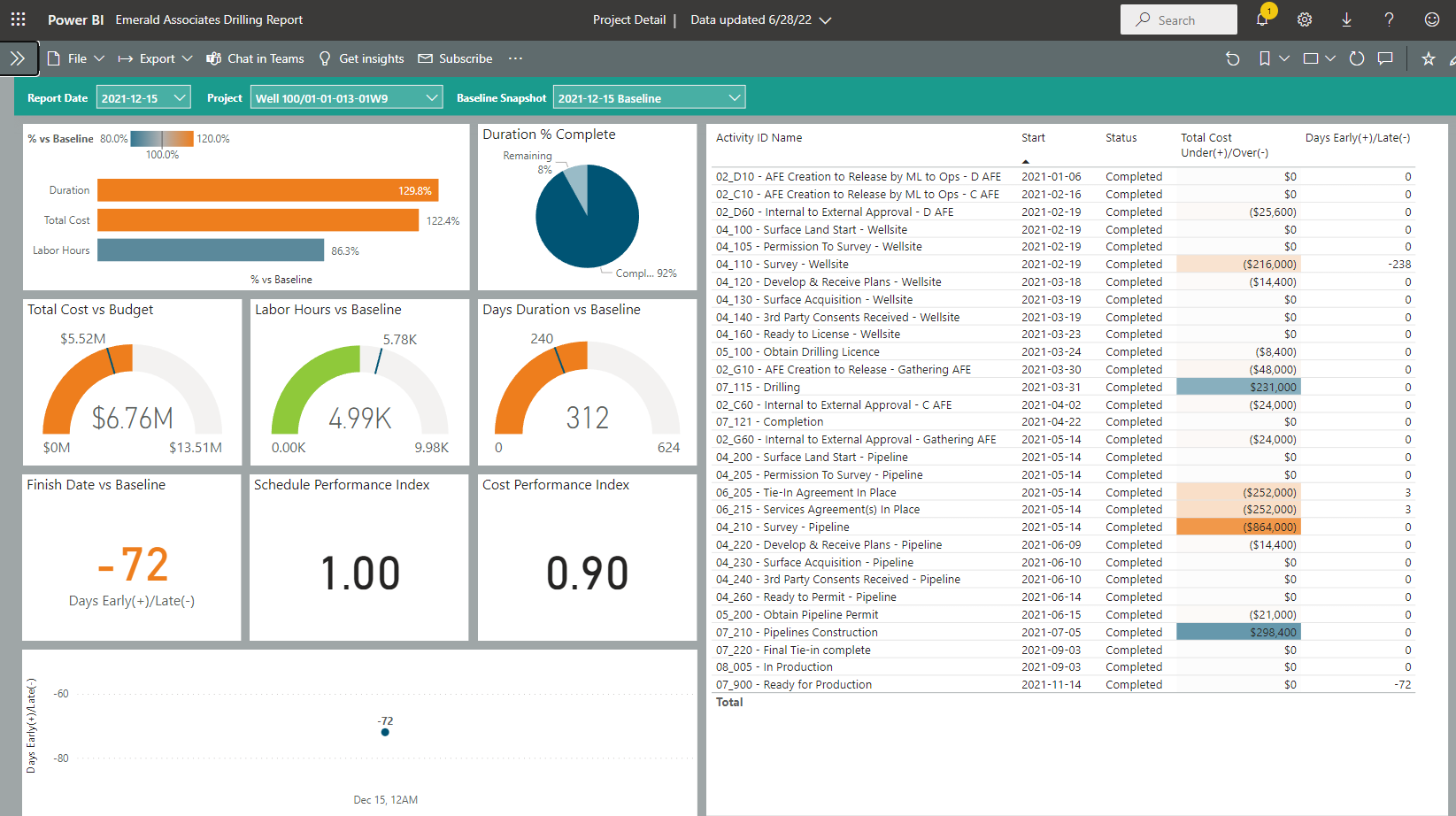 Project detail dashboard screen shot (above). Drill down dashboards for monitoring activities, labor hours, and costs are also available with P6-Reporter. From the Project Detail dashboard, quickly digest current project status information.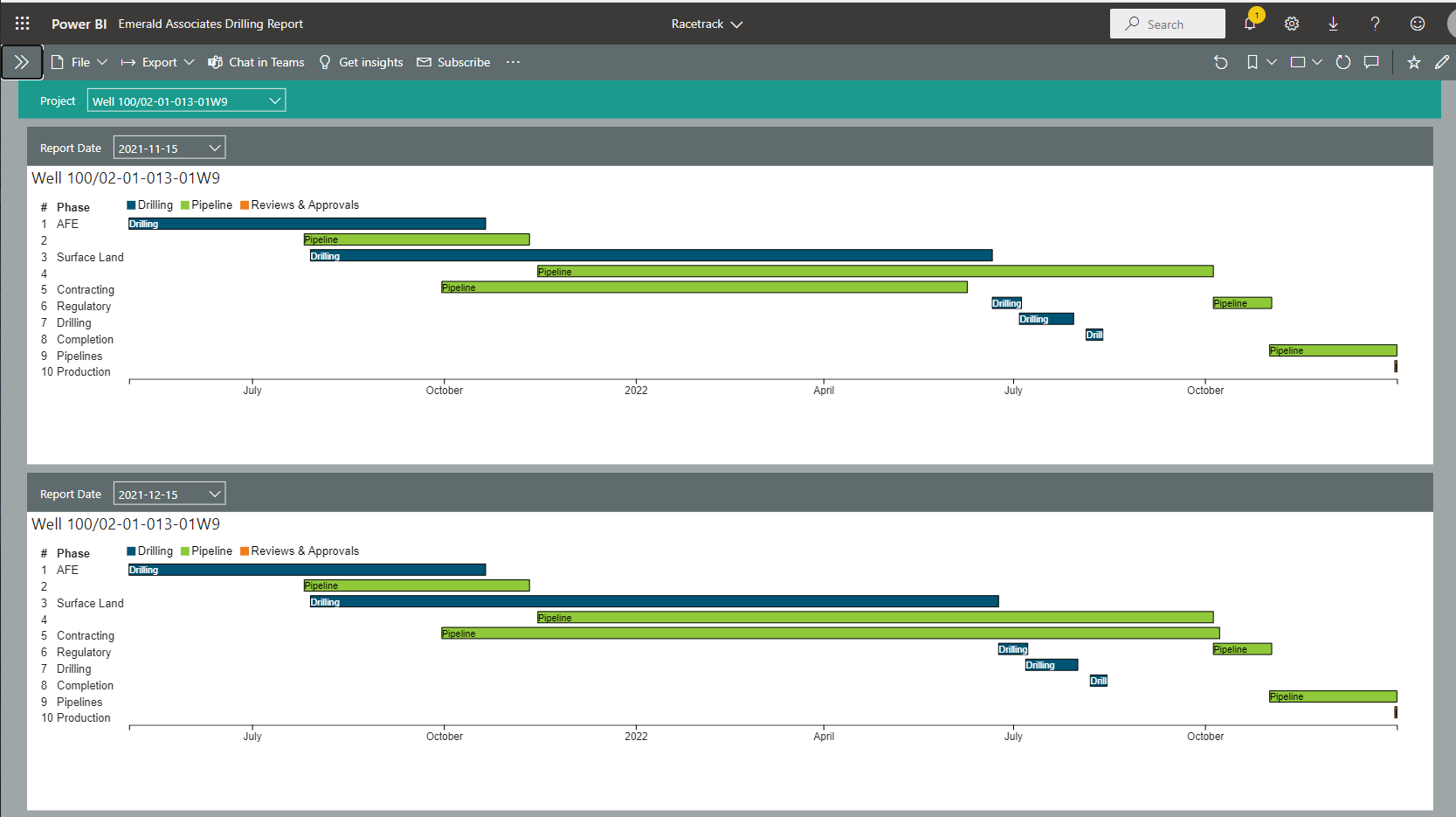 A screen shot of a racetrack report snapshot comparison above. A number of comparison report displays are available with self-serve filters and pick lists which allow focus on exactly the information you need to compare summarized to the level you require.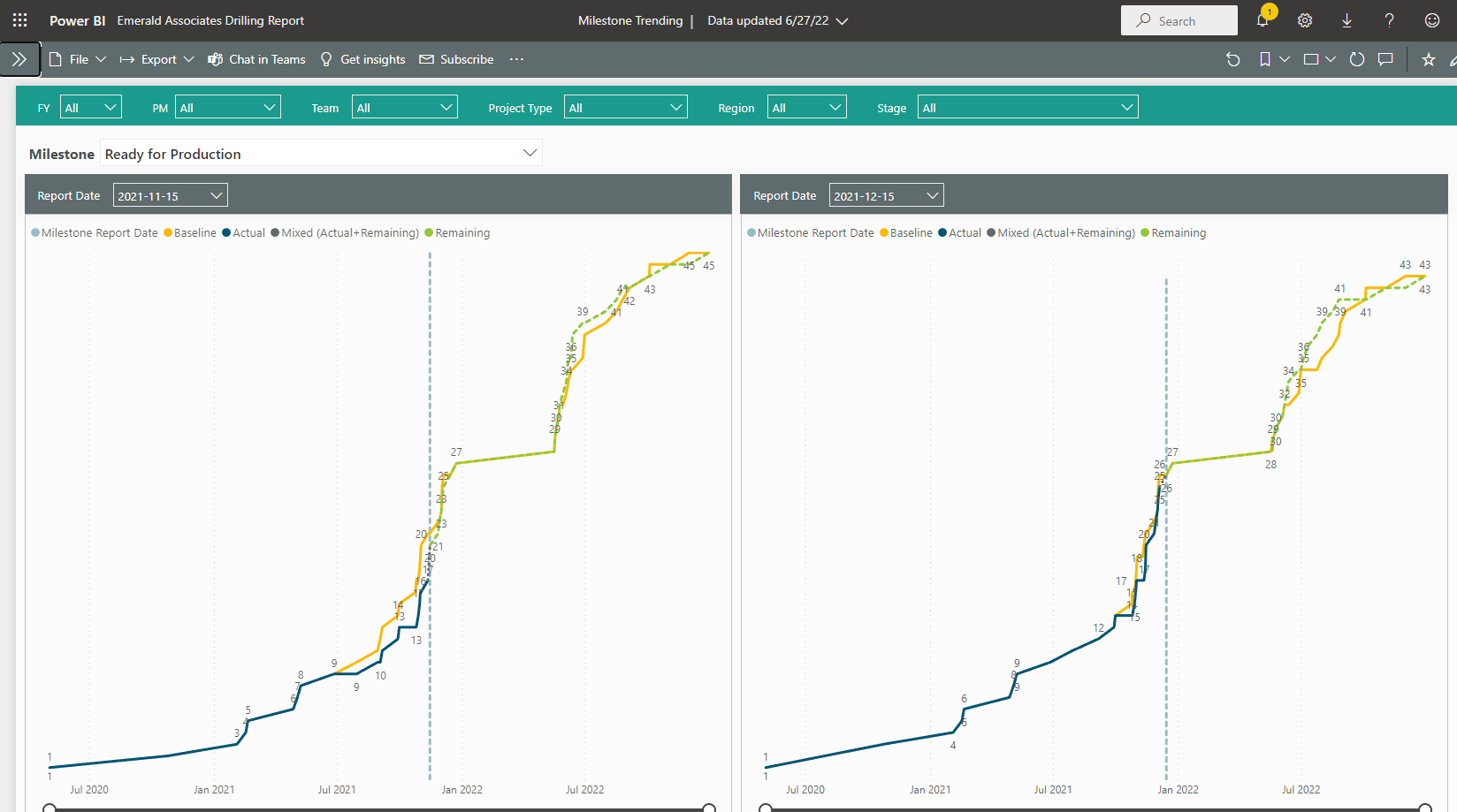 Milestone trending is also available using P6-Reporter. No more struggling with milestone reports of different levels or comparison display issues. Simply apply the required filters and make your selections from the picklists. The information from the snapshots feeds the report which displays automatically. At your fingertips, you have current information in an easy to digest format.

No video selected.
About the Author
Mary Lynn spent many years filling a variety of project controls duties such as planning, scheduling, analyzing, training and continuous improvement in the Aerospace Industry. Since joining Emerald in 2008 she has been a tremendous asset to the Emerald team.