TAPS - Not Just for Turnaround Schedules
Although TAPS was originally developed to assist with the large number of updates that need to be processed into a turnaround schedule for every update, do not limit your imagination! TAPS can be used to process updates to schedules other than just turnaround schedules. Consider where this tool can assist in addition to updates on turnaround schedules. Keep in mind that TAPS is available on mobile devices also.

Below is just one of a large number of scenarios for how TAPS can be used.
Running a production line, we need to be able to easily status the progress of items as they make their way through the production line. To be able to easily update the status on a mobile device would be a big help. No longer noting progress in paper form and then entering the status back in the office on a computer would save so much time. TAPS has this covered. Create your schedule and customize the schedule to the structure that fits your scenario the best. Update activity progress as the items are processed through the production line. Your schedule information is now more current, and your team now uses current information to make decisions. The schedule information gives current insight so you know if there is anything to dig into such as: if the production line is running as expected, if there are materials required to continue the production line (if that information is included in your schedule), and if production completed addresses current commitments. You can track the complete set of production line requirements in the same schedule. Below are just a few activities out of a very small, high-level example.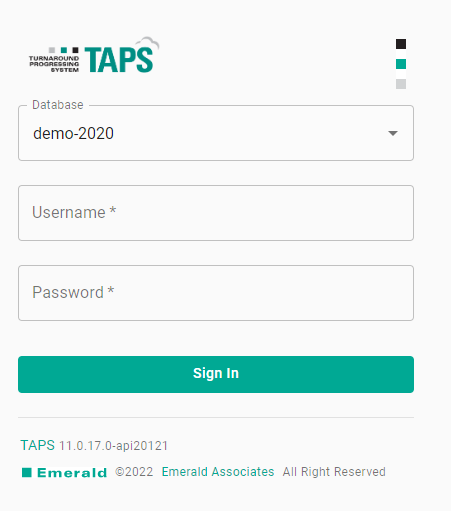 Login to TAPS and update schedule progress. Progress your scheduled activities as they are completed in the production process. Track/identify your line items using a barcode scanner and barcode ids on the line items or paperwork for the line items. Update the activity status for the line items using TAPS, and the production line progress is reflected in the production schedule.

Equip your team with self-serve dashboards that are available using P6-Reporter and EP-datawarehouse. As updates are completed to the schedule using TAPS, schedule snapshots are taken regularly using automated snapshots. You control the interval for the automatic snapshots to be created, and they update the information in the self-serve dashboards in P6-Reporter. Your team now has quick, easy-to-digest, and current information available in the self-serve dashboards in P6-Reporter. For comparison, you have previous snapshots as well as current snapshots available for reporting. Perhaps steps were taken to address an issue on one production line and you are looking to confirm the steps have addressed the issue – self-serve dashboards give you easy access to current information on that. If there are members of your team that do not need to directly access P6 as a scheduling tool but do need to access the information generated by P6 schedules in an easy-to-digest and easy-to-access format, then TAPS, P6-Reporter, EP-datawarehouse have it covered.

No video selected.
About the Author
Mary Lynn spent many years filling a variety of project controls duties such as planning, scheduling, analyzing, training and continuous improvement in the Aerospace Industry. Since joining Emerald in 2008 she has been a tremendous asset to the Emerald team.