DOTs and Emerald Associates - We Can Make Your Job Easier
Emerald Associates is well known in the US and Canada for our homegrown add-on tools for Primavera P6. We have assisted numerous companies in many diverse areas to get the most out of their P6 software. You may wonder how our tools can assist in the Department of Transportation (DOT) field to get more done in P6 with less time while still providing useful data to your stakeholders and remaining good stewards of the public's funds. Our tools will help you do more work in less time, so that your project management group has more time to analyze and perfect their schedules.
Emerald Cloud
Some DOTs are experiencing IT issues as states move toward centralizing IT departments. This means that any individualized attention provided by in-house IT departments might go away. This also tends to pull the availability of those IT personnel away from a more personalized role. In many cases, IT personnel are removed from on-site offices to a centralized location, where just walking down the hall to get help is no longer an option and often results in a longer wait-time to get IT issues resolved. While this may make sense for the bottom dollar, it does not allow for the seamless continuation of your work through the quick resolution of P6 IT problems.
Emerald offers the Emerald Cloud, where your data is secure and customized for your size, and we worry about the hassle of maintaining equipment with minimal effort from your internal IT team. We have a variety of cloud offerings and managed services that can accommodate any size deployment. We can help optimize your P6 application from a no frills cloud deployment to a fully managed cloud solution. A cloud deployment also allows extended team members to easily access the software, even if they are in not in the same physical location - whether that's across the region or on the other side of the country.
P6-Loader
P6-Loader is a tool that allows you to extract data out of, or load any data into, P6 using the APIs or Web Services and Microsoft Excel spreadsheets. P6-Loader is cloud enabled and is approved by the Oracle Cloud Marketplace. The functionality of this tool allows you to gather information from outside sources, such as financial or engineering systems, the many different areas involved in design, or even contractors. These can be given to your PMO in Excel format. The tools in Excel, such as Macros or formulas, will help put this data into a format P6-Loader can read, and the information is loaded into P6 without all of the tedious data entry that is typically required. In many cases, this can be automated, with little to no effort needed by the PMO to get the information into P6. We are able to access 99% of the data in P6, including Notebooks, so the possibilities are endless!
In a former position, I was an administrator for a state DOT Primavera P6 environment. I found that setting up a new user could be a daunting task, especially if new Security Profiles were needed. All those tabs and check marks lent themselves to possible entry errors. With P6-Loader, all of the information is on one sheet so that you can easily see which options are enabled or disabled. A new user can be set up and assigned Global and Project Security Profiles (new or existing), given access to the proper modules, and set up as a resource with one quick load. Users can also be disabled or deleted with P6-Loader, helping to keep your license counts under control. In fact, we have customers who never manage users through P6, they do it all with P6-Loader instead.
We all know that enterprise data can get out of hand in P6. Calendars, Activity Codes, Project Codes, and Resource Codes can especially become incredibly disorganized. This can happen if an outside schedule is not properly scrubbed prior to import, or if you have users who've set up codes and not realized that the code is already made or is created at a higher level than it needs to be. For example, you may have many useless Calendars that have been imported from a contractor's project or someone may have set up a Global Code that is only useful at an EPS level (Perhaps this EPS pertains to a certain district, and other districts do not use the code). A usage extraction can be run on those elements to determine where they are in use, and then use the results to reassign the Calendars or even delete any useless Calendars with P6-Loader. In the case of improperly placed codes, P6-Loader can roll those codes down and find where each one is assigned, and then change it. This saves the time and frustration of manually opening each project or activity and re-assigning the edited code in P6.
Entering resources and roles for each new project can be a daunting task, especially if you have a contractor you haven't used before. You can easily get a list in Excel from your contractor that catalogs the resources and roles necessary for your project, and then load them quickly with P6-Loader - eliminating all of the manual entry of individual resources in P6.
These are just a few examples of pain points arising in DOT projects that can be alleviated with P6-Loader.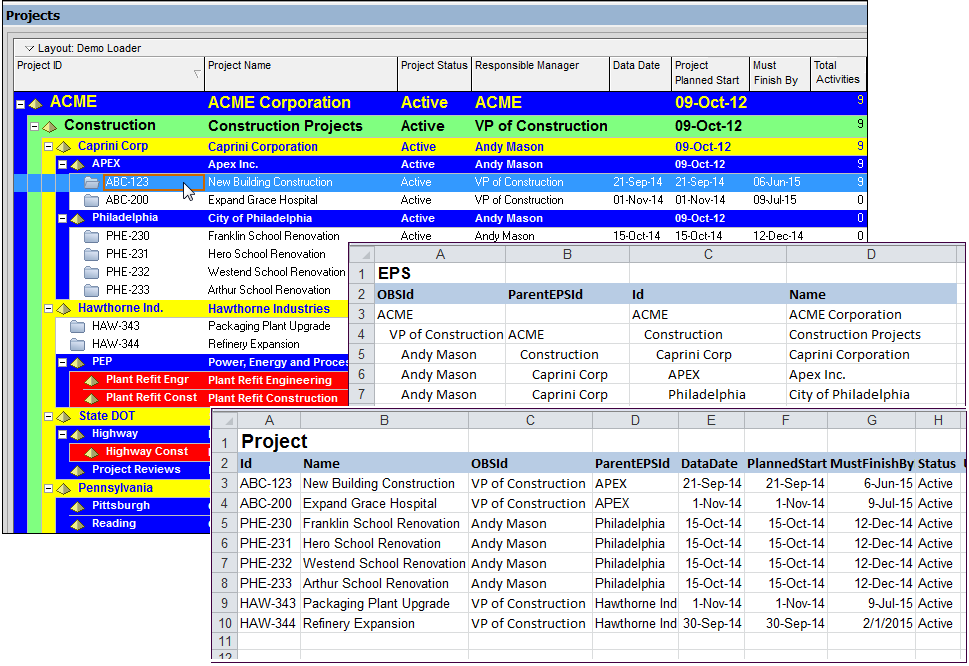 P6-QA
P6-QA is a tool intended as a way for schedulers to see the quality of their schedules. Unlike other tools that can be extremely expensive or limited to only a handful of users, P6-QA is can be used by all P6 users to improve their work product. Interactive indicators at both the project and activity levels are displayed right in P6. The validations include corresponding notebooks to display more information on each indicator. P6-QA can be set up to run on schedules at regular time intervals or can be run "on the fly" if you are working on a specific schedule and want to check it. P6-QA includes Schedule Quality checks based on the DCMA 14 Point Assessment, GAO and PMI guidelines, as well as Business Process checks. Validation settings are customizable to meet your every need. The indicators can be used to sort, group, filter, and analyze multiple projects at a time.
Government agencies can see a lot of turn over. It is common for specialized employees to gain experience in the government sector, and then use that experience to transition into the private arena. This usually means DOTs are bringing in new personnel who will need some sort of training. The P6-QA tool can help new schedulers to get up to speed with an organization's requirements and to quickly self-check the quality of their schedules.
Contractor schedules you receive can be checked for adherence to the requirements of their schedules as set forth in their contracts. This can be done with little effort by simply importing the schedule into a staging area and then running a P6-QA validation process on it. This saves many hours of analyzing each separate schedule with different layouts, reports, and/or filters.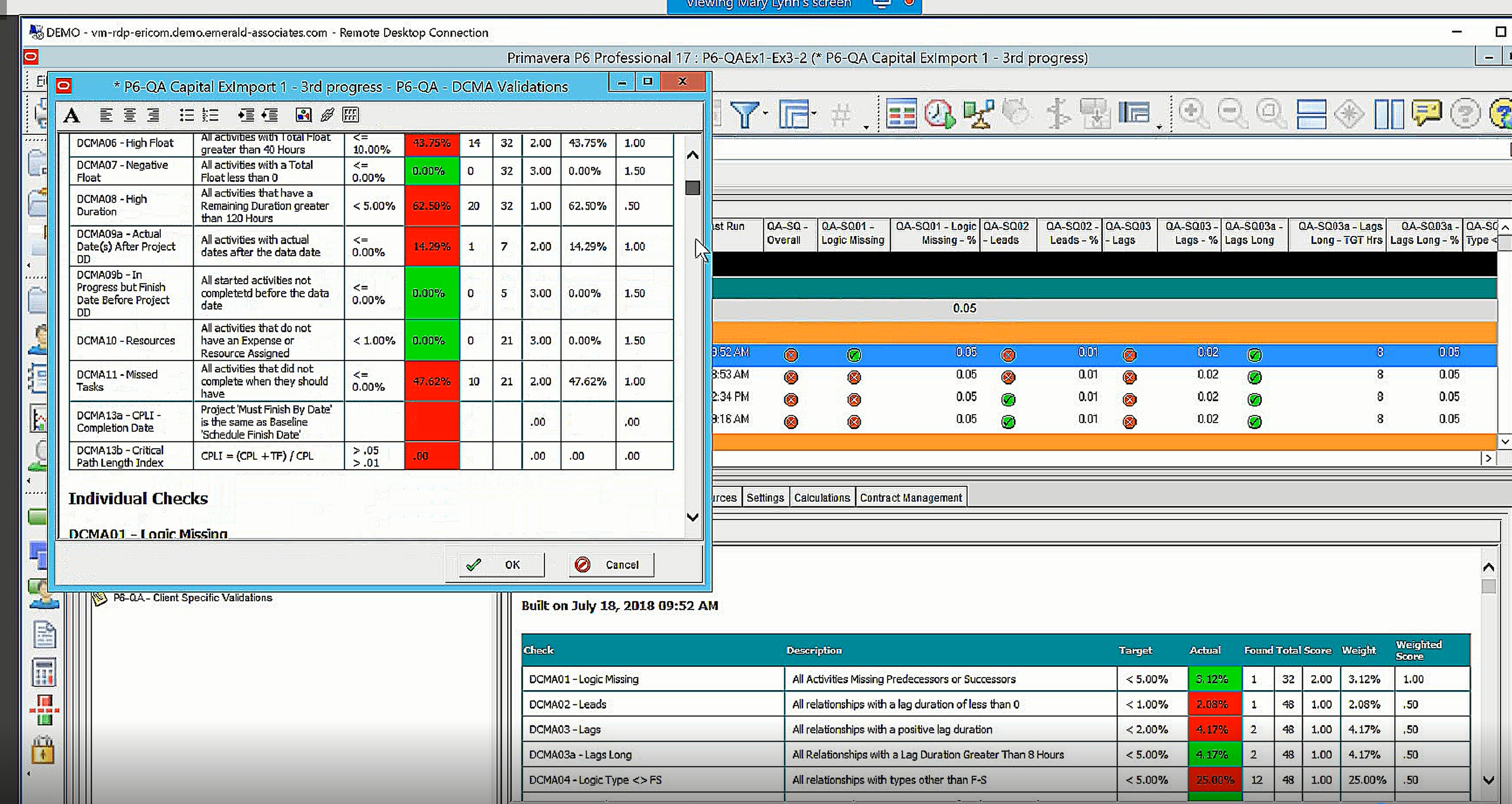 No video selected.
About the Author
At Emerald Associates, Sue is an Implementation Specialist and has been successful at drawing on her accounting and project management background to consult with our diverse client base. With her friendly demeanor and strong communication skills, she has become a talented Primavera trainer and works very hard to effectively implement Oracle Primavera solutions that cater to each client's unique organizational needs.