Emerald Associates Releases A Cloud Enabled Primavera P6 Barcode Updating Tool
Emerald Associates announces the new release of TAPS, their Primavera P6 add-on tool for barcode updating for on-premise or cloud deployments of Primavera P6.
Calgary, Alberta January 20, 2017 - Emerald Associates, a leading provider of Oracle Primavera solutions, announced today that it has released a cloud enabled version of TAPS, a Primavera P6 add-on that allows users to update activities in their P6 projects with a barcode scanner instead of manual data entry.
Known for its speed and accuracy, TAPS is in use on turnaround projects all around the world and can cut project statusing time by up to 75%. Instead of manually finding an activity and updating the start, finish or percent complete, two fast scans with a barcode scanner can find and update an activity within seconds. Schedulers gain valuable time to analyze and act on project issues as opposed to simply typing and aggregating data. Security is also respected through the use of P6 Web Services.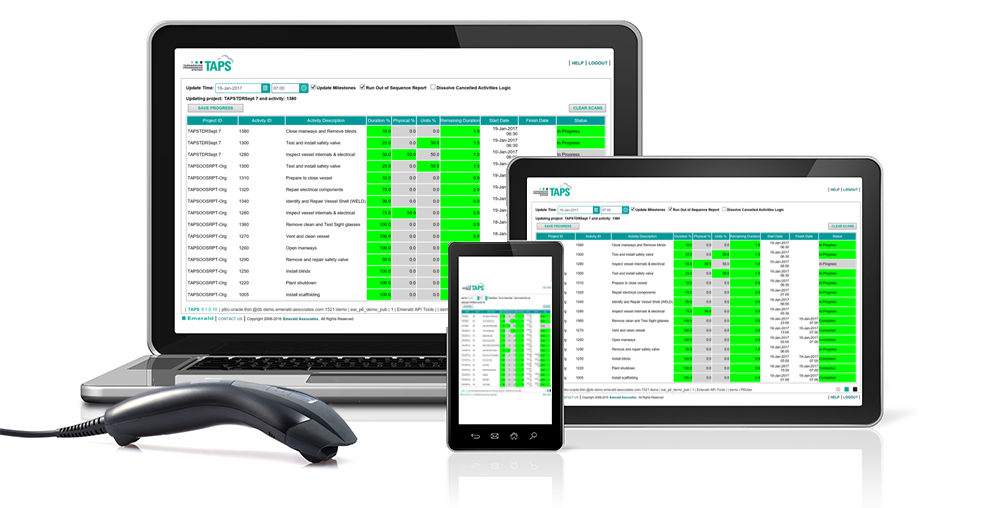 TAPS version 9 is built using HTML5. All Java that existed in previous versions has been removed. This version is compatible with all browsers and mobile devices and can be used by Primavera P6 users in the cloud or on-premise. TAPS also does key earned value and progress calculations that are not done in P6 and would take a scheduler many tedious steps to do. For example, TAPS calculates Earned Value at the resource assignment level using duration percent complete or physical percent complete, making Earned Value reporting faster, easier, and more accurate. Visit the TAPS product page for more information and resources.
"With this version of TAPS, our clients can choose their deployment location, service model and the device they use for updating. Now there really are no technology roadblocks to getting TAPS working for your team" says Nicole Jardin, CEO.
Emerald Associates is known for their extensive line of unique Primavera add-ons, and they continue to develop versions that extend Primavera in the Cloud. Other cloud enabled Primavera add-ons include the P6-Loader, a tool that automates manual data entry by integrating the power of Primavera P6 with the ease-of-use of Microsoft Excel. The P6-Loader enables users to save time, speed up deployments and simplify the administration of project and global data.
Emerald Associates has implemented TAPS for many clients including those in the oil & gas, petrochemical, agribusiness, and power generation industries. Although TAPS is best known in the oil & gas industry for turnaround projects, the tool has been evolving over the last few releases and attracting interest from other industries as a dramatic time-saving solution for anyone with a lot of P6 activities to update.
About Emerald Associates
Emerald Associates is an Oracle Plantinum Partner specialized in the Oracle Primavera suite of products. Since 1995, Emerald's dedicated team of project managers, engineers and programmers have been delivering innovative solutions for clients in project-based industries such as oil & gas, nuclear, healthcare, pharmaceutical, engineering, construction and the public sector. Emerald Associates prides themselves on delivering best-of-breed project management solutions to a diverse client base. They build longstanding relationships through quality Oracle Primavera implementations, integrations, automations, and timely support.
You can view a copy of the TAPS v9 press release on PRWeb.