Are You Tracking Ideas? Are Approved Ideas Easily Translated into Project Proposals?
Ideas in Oracle Prime:
Use Oracle Prime to create ideas: capture, evaluate, and process the ideas for new initiatives and business endeavors.
Ideas are processed using a submission and approval workflow. Prime Projects provides a default workflow for processing ideas, or you can create a customized workflow. First the idea creator creates an idea and specifies the idea's business case. When an idea contains sufficient information, the creator can submit the idea for further processing by routers and owners.
Submitted ideas are initially processed and evaluated by idea routers. When routers screen submitted ideas they can delete an idea or reject an idea. If it is rejected, the router will then provide a reason for the rejection. For example, the router might reject the idea if the idea requires more information or if it is a duplicate of another idea already in the system.
If the idea is ready for further processing, the router will instead assign the idea to an owner who can then perform further evaluation on the idea and decide whether the idea should be accepted or rejected.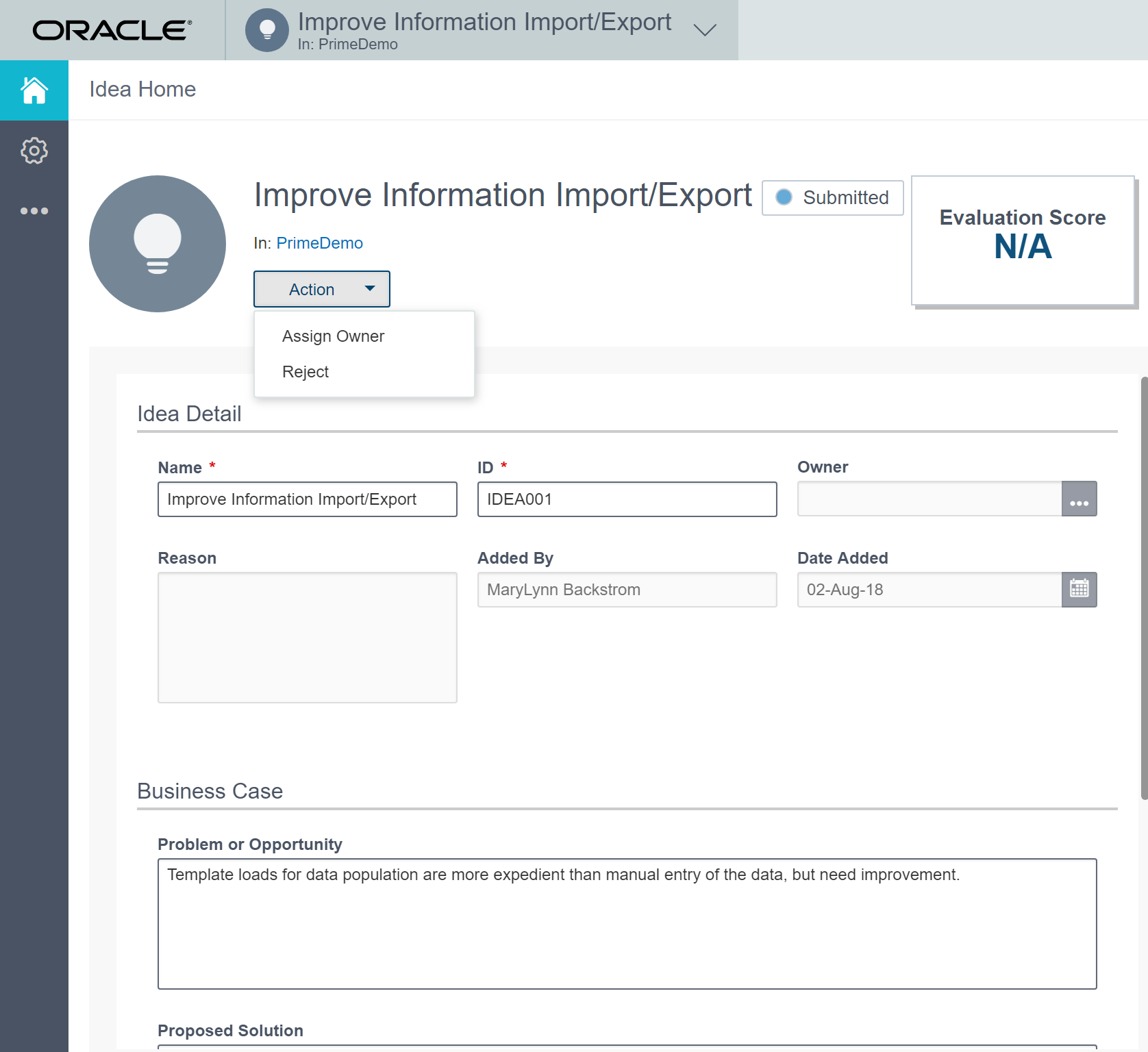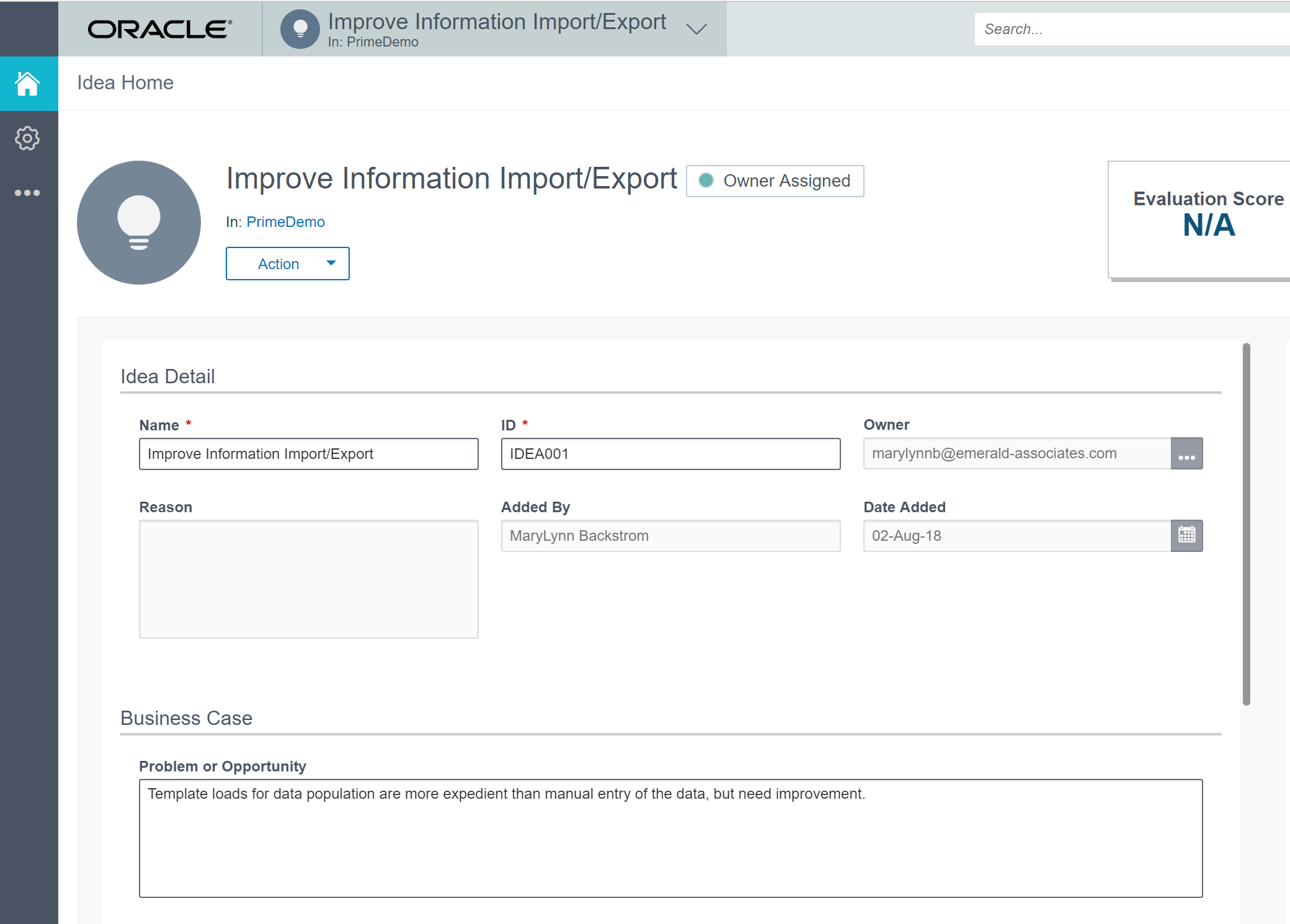 After the router assigns an idea to an owner, the idea's owner is responsible for evaluating the idea further. In our example above the same name is in 'Added By' and 'Owner' – these would normally be different people.
Oracle Prime provides powerful tools for idea processing and analysis, including evaluation categories and an investor map. These enable high-level quantitative comparisons between submitted ideas.
After conducting an evaluation, the idea's owner can then decide to accept, reject, or delete the idea. If they accept an idea, the organization can begin to work on implementing the idea or withdraw its acceptance at a later date. If an idea is rejected it is considered infeasible by the assigned idea's owner and can be opened for reconsideration later.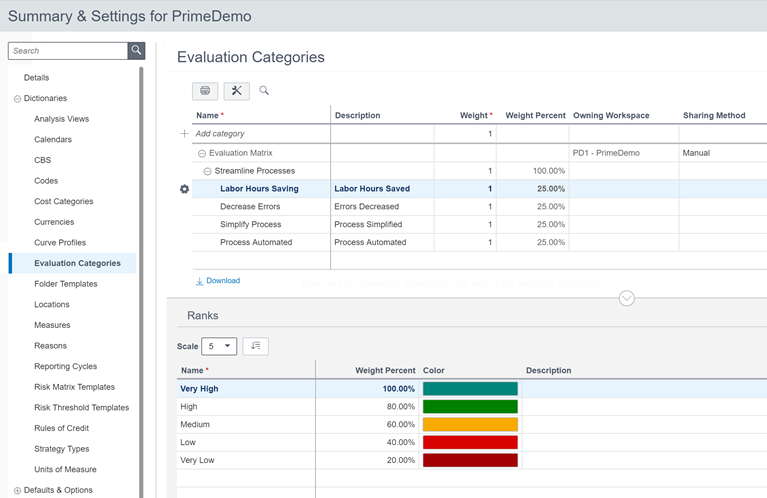 This example is just one simple evaluation criteria. You can set up a number of evaluation criteria as applicable for your workspace. The idea's owner is responsible for assigning evaluation values from the categories which the score is then derived from.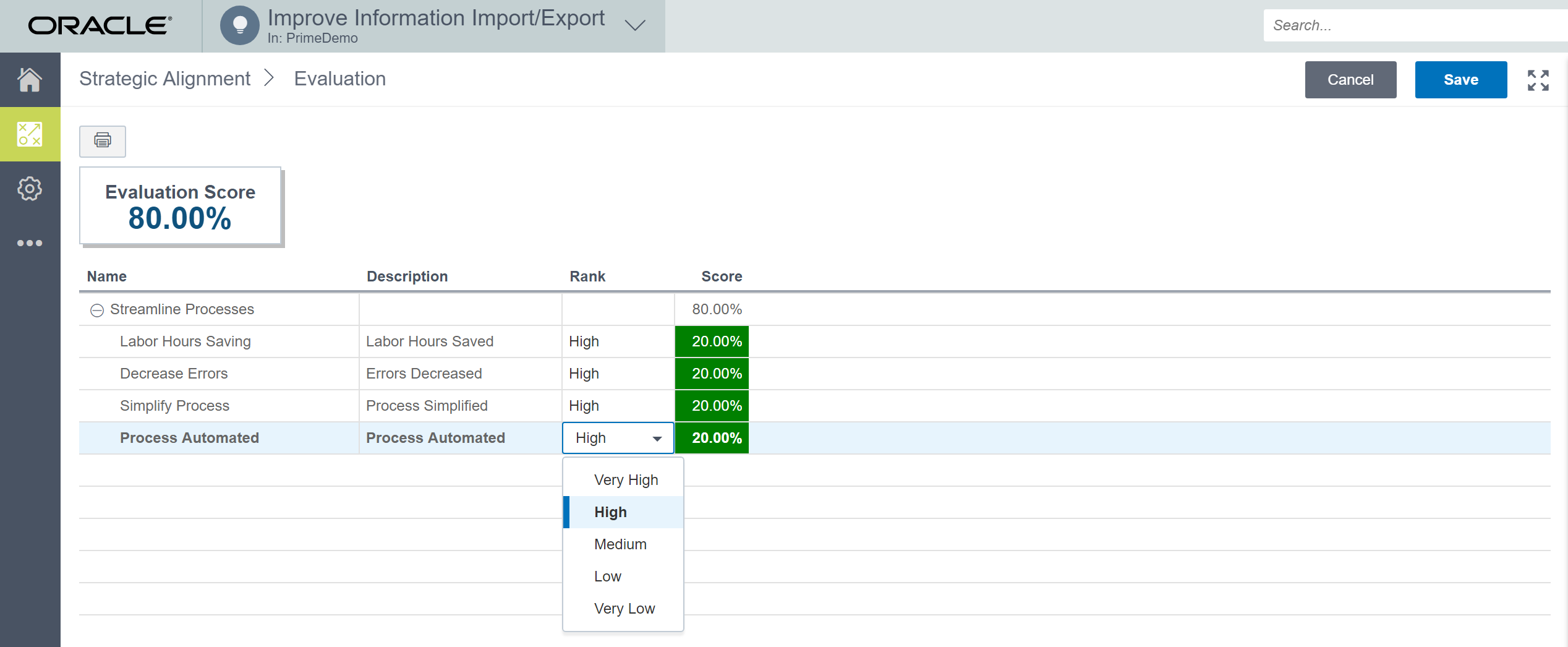 An example of evaluation criteria weighting being assigned is shown above.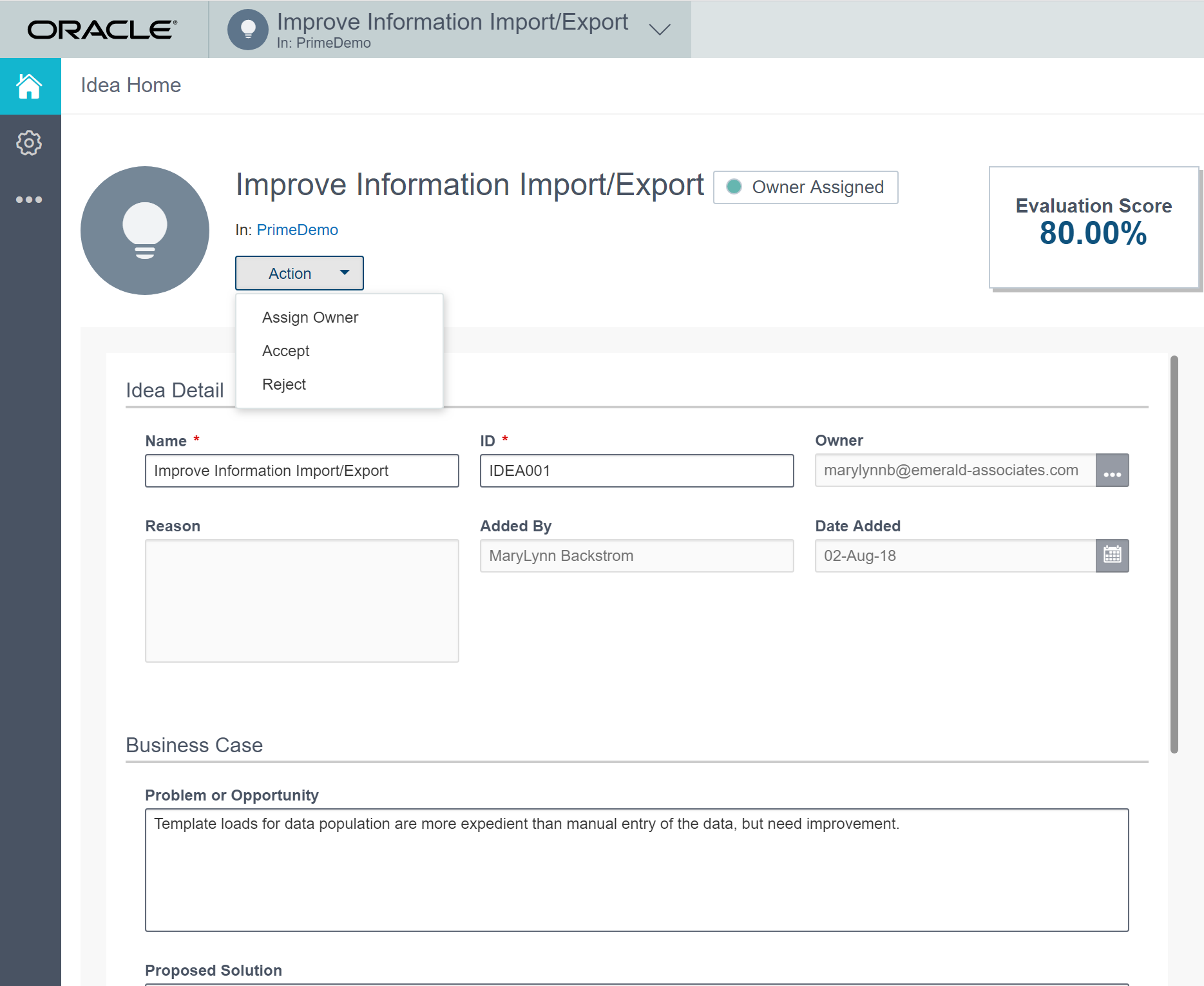 The idea above has been accepted.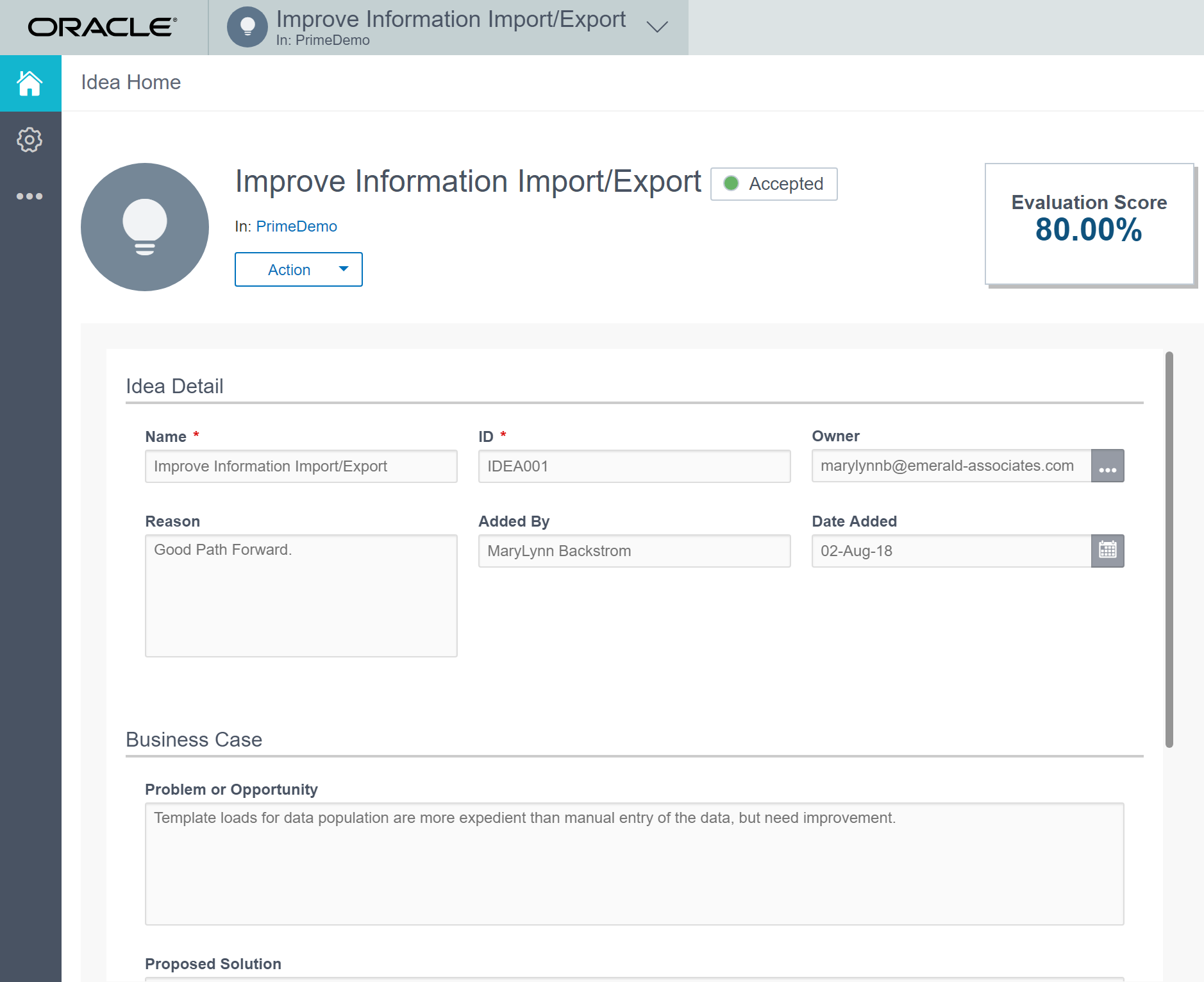 You can use Approved Ideas in conjunction with the Workflows and Forms app to create project proposals based on the approved idea.

No video selected.
About the Author
Mary Lynn spent many years filling a variety of project controls duties such as planning, scheduling, analyzing, training and continuous improvement in the Aerospace Industry. Since joining Emerald in 2008 she has been a tremendous asset to the Emerald team.