Exactly Which Projects Are Using Each Global or EPS Activity Code?
In P6, identifying which projects are using each Activity Code in a quick, consolidated, easy to use manner is challenging. Especially when you consider some clients have a LOT of baselines.
But is this is r-e-a-l-l-y information we need to be able to capture? In my experience, there are a number of scenarios where that answer is a resounding "Yes"! One common example – the Activity Codes Dictionary needs to be cleaned up.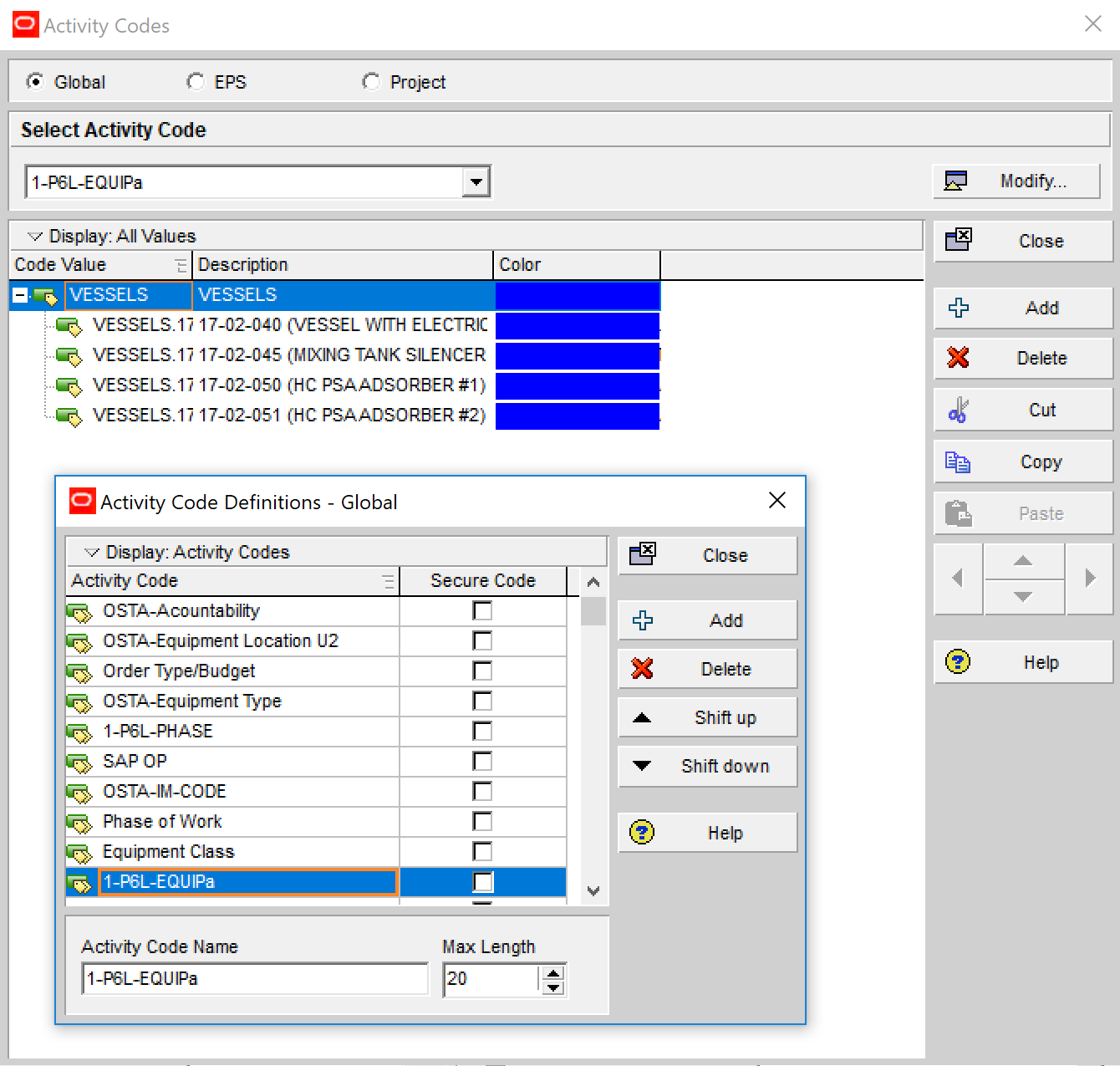 In P6 Client (above) we can view Global Activity Codes. (There is no direct access from these dialogue boxes to a consolidated list of the Global or EPS Activity Codes, and each of the specific projects that are using them.)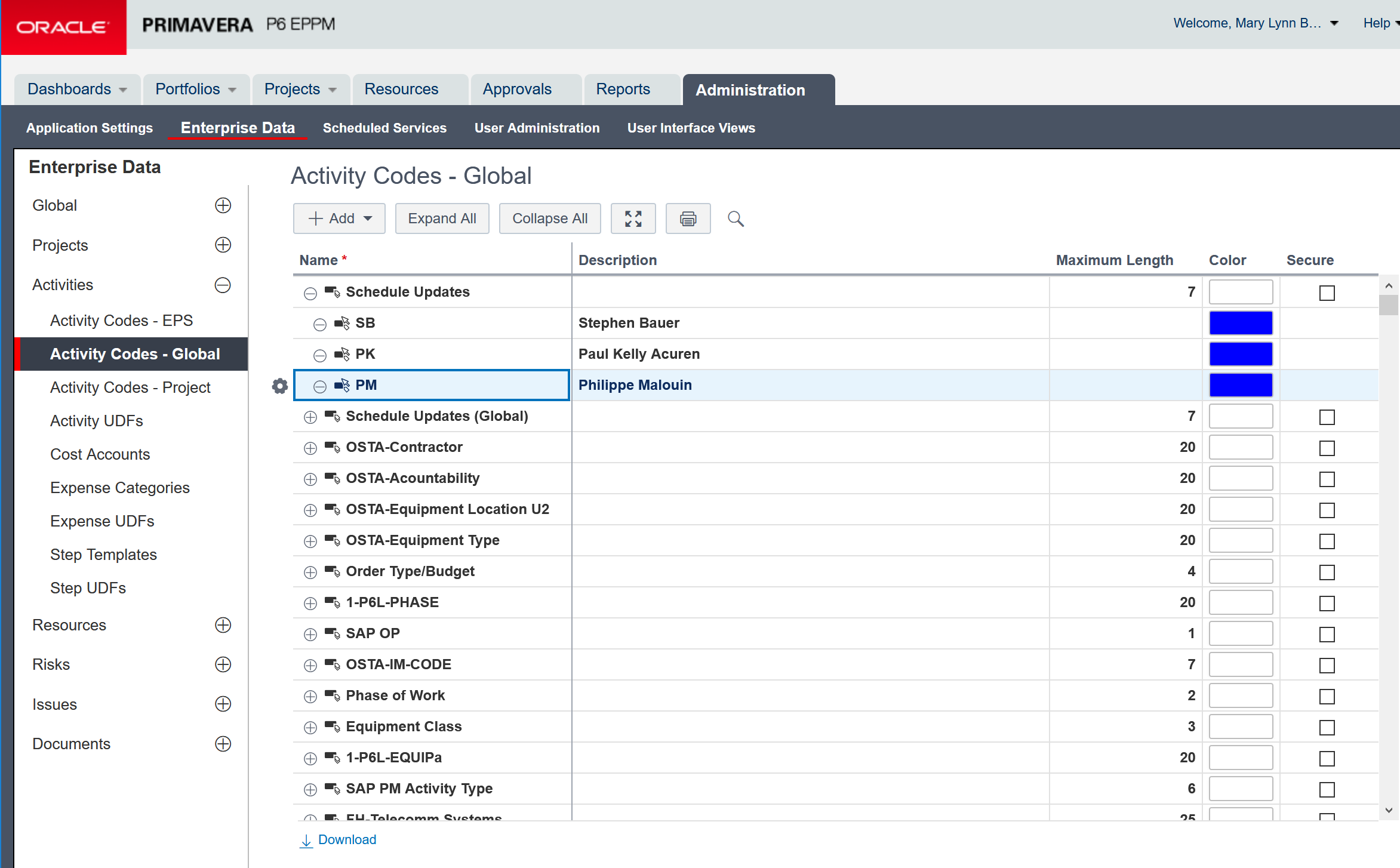 The display in P6 Web is very similar – you have access to a list of the Global Activity Codes (above), along with some code and value specific information, but no quick, direct access to a list of each of the projects using each of the Global Activity Codes. (The same type of display is available for the EPS Codes.) Notice that you do have access to a Download function at the bottom of the Activity Code list however, that function downloads only the Activity Code list and the code information you see on the screen.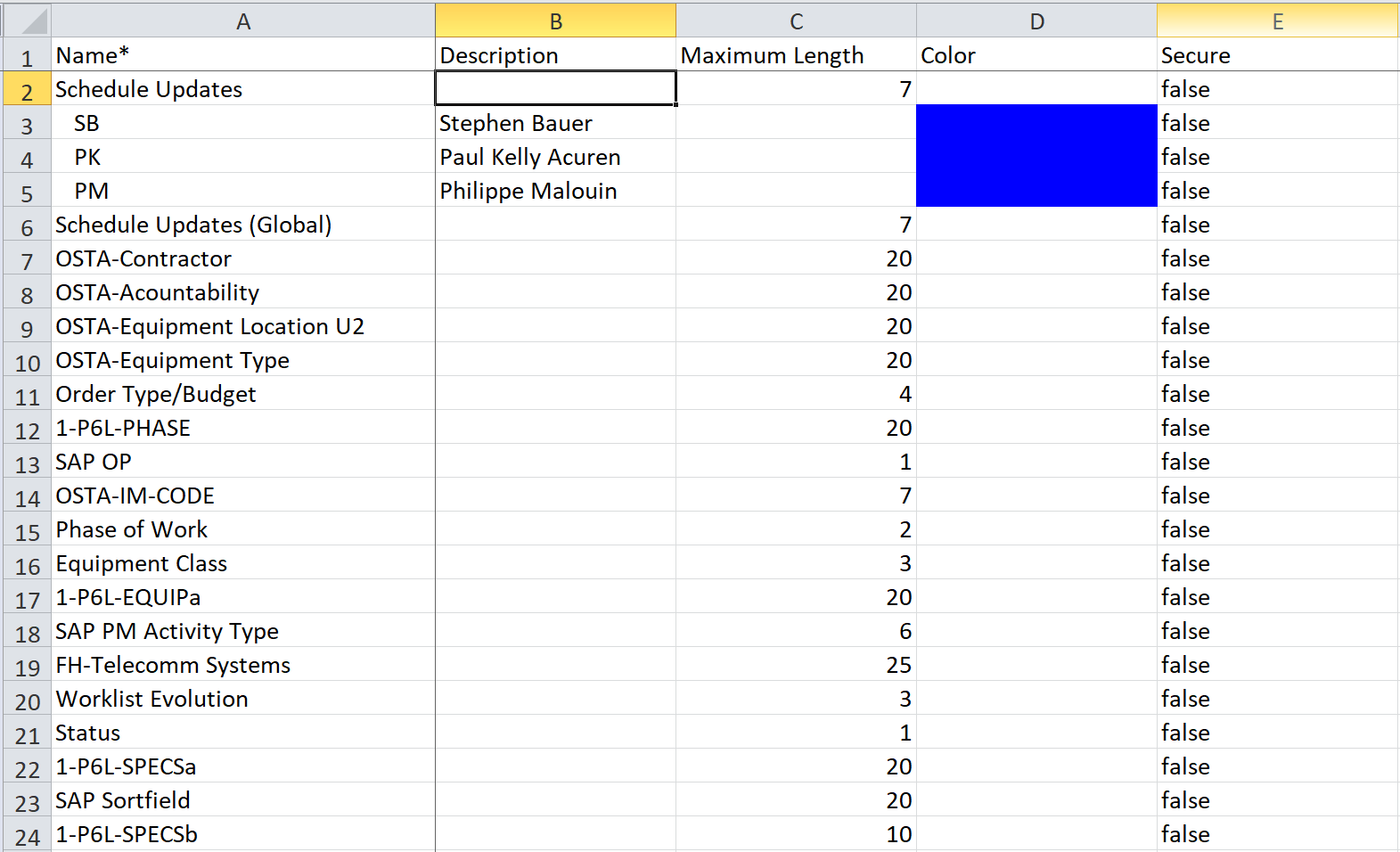 Above is an example of the previously shown screen information in spreadsheet format via the Download functionality from the P6 Web Screen.
How Can P6-Loader Help this situation?
Login to P6-Loader and Extract. We have Usage Module with usage sheets in there. Choose the areas you want to explore,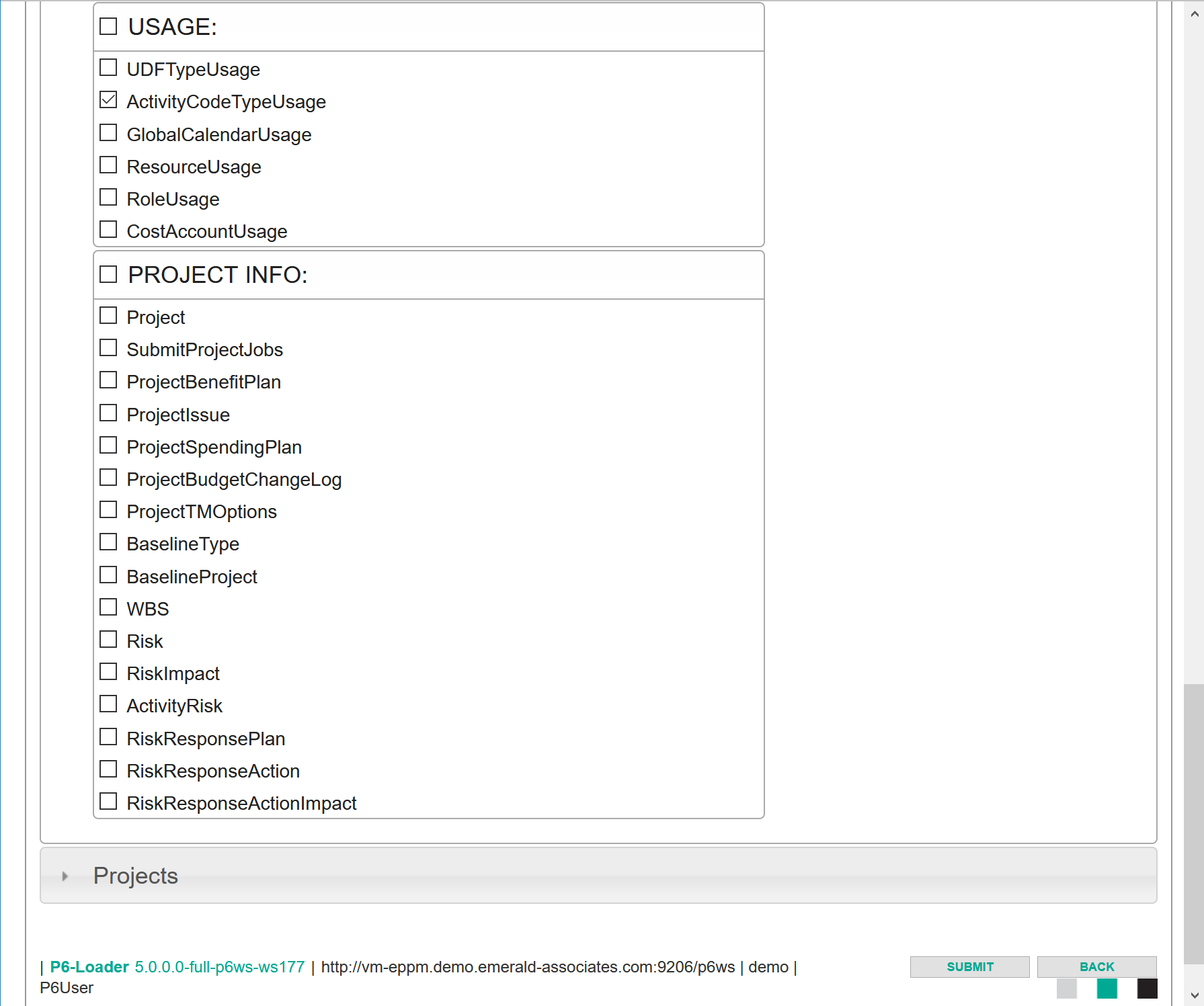 You can run these on all the projects in the EPS you have access to, or you can select one node or a handful of projects.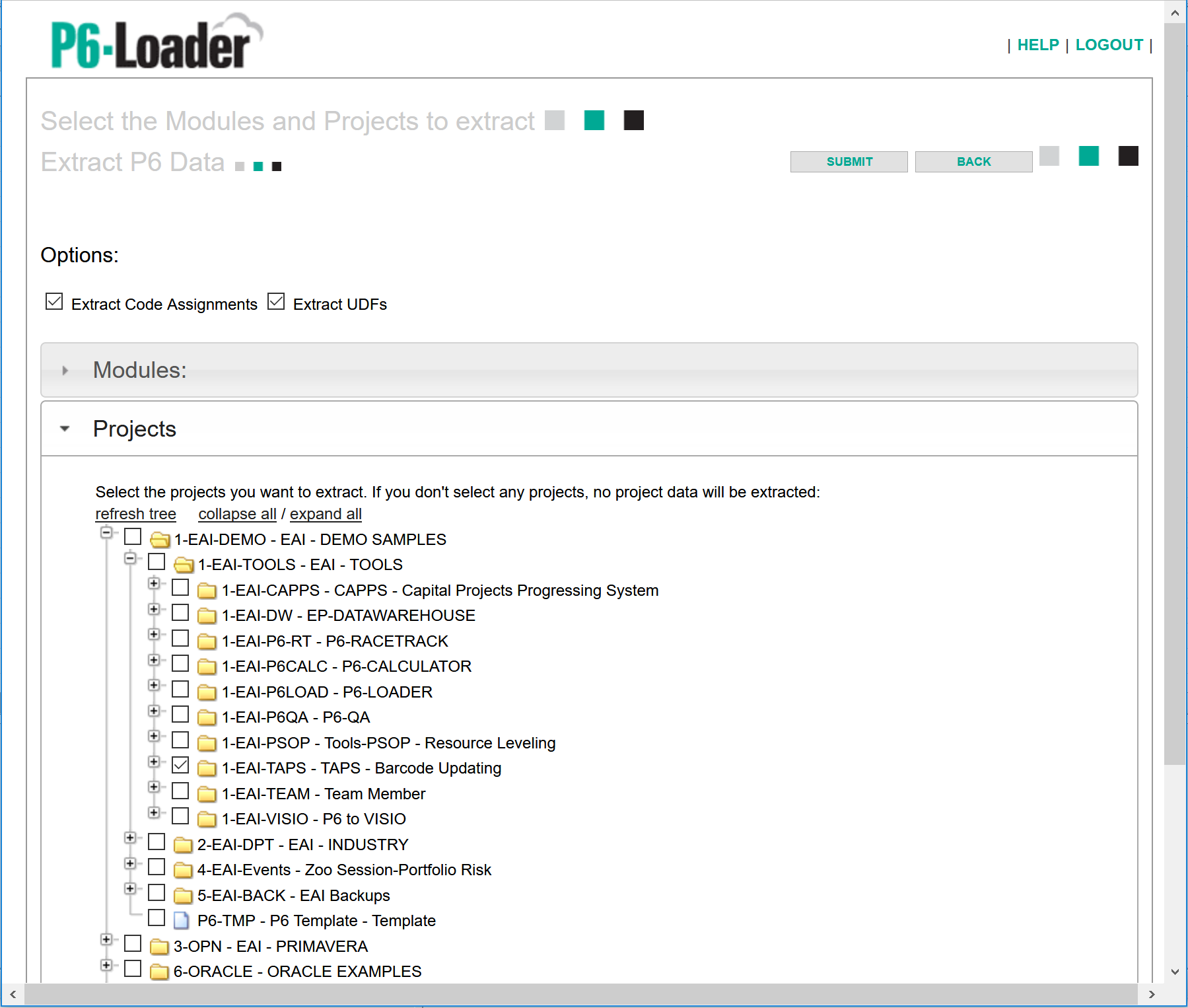 Click to select the project(s) or EPS level(s) you wish to run the information for; then click Submit either at the top or bottom of the screen (above). You can run this report for as few or as many projects as you require. Click the EPS node if you want the report run for all the projects in the EPS node, the projects will be automatically selected.
When the report is complete – click Download. You will now be able to track down projects and baselines using calendars, codes etc and really get your cleanup going.

An easy to use, consolidated report of Activity Code usage is easily generated (above). Here we are scrolled part way down the report – remember the spreadsheet filter functionality can be used to display only the Activity Codes being used in the projects selected in the report if required.

No video selected.
About the Author
Mary Lynn spent many years filling a variety of project controls duties such as planning, scheduling, analyzing, training and continuous improvement in the Aerospace Industry. Since joining Emerald in 2008 she has been a tremendous asset to the Emerald team.