Activity Criticality Self-Serve Dashboard
Do you have project critical path status information at your fingertips? Your project teams need current criticality information to make timely, informed project decisions. Delayed decisions or basing decisions on old information can be costly to your projects.
Using the new criticality report now available with P6-Reporter, the current criticality information will always be at your fingertips. Use the filters to choose the file and snapshot required. Keep in mind, the snapshot process can be carried out manually or be automated.
From the self-serve dashboard, easily filter to display just the activities of the criticality level you need to focus on. Below, we will filter the dashboard for Critical activities. From the Criticality Level display, use the selection check boxes or click on the graphic display for critical activities. Either option will work to filter the dashboard.
Another option to display just the critical level activities is to click on the critical display bar in the Activities by Criticality Level display (below).

The information for the critical activities is displayed in the dashboard (below). The dashboard provides all the criticality information for the Critical activities to streamline focus on those items.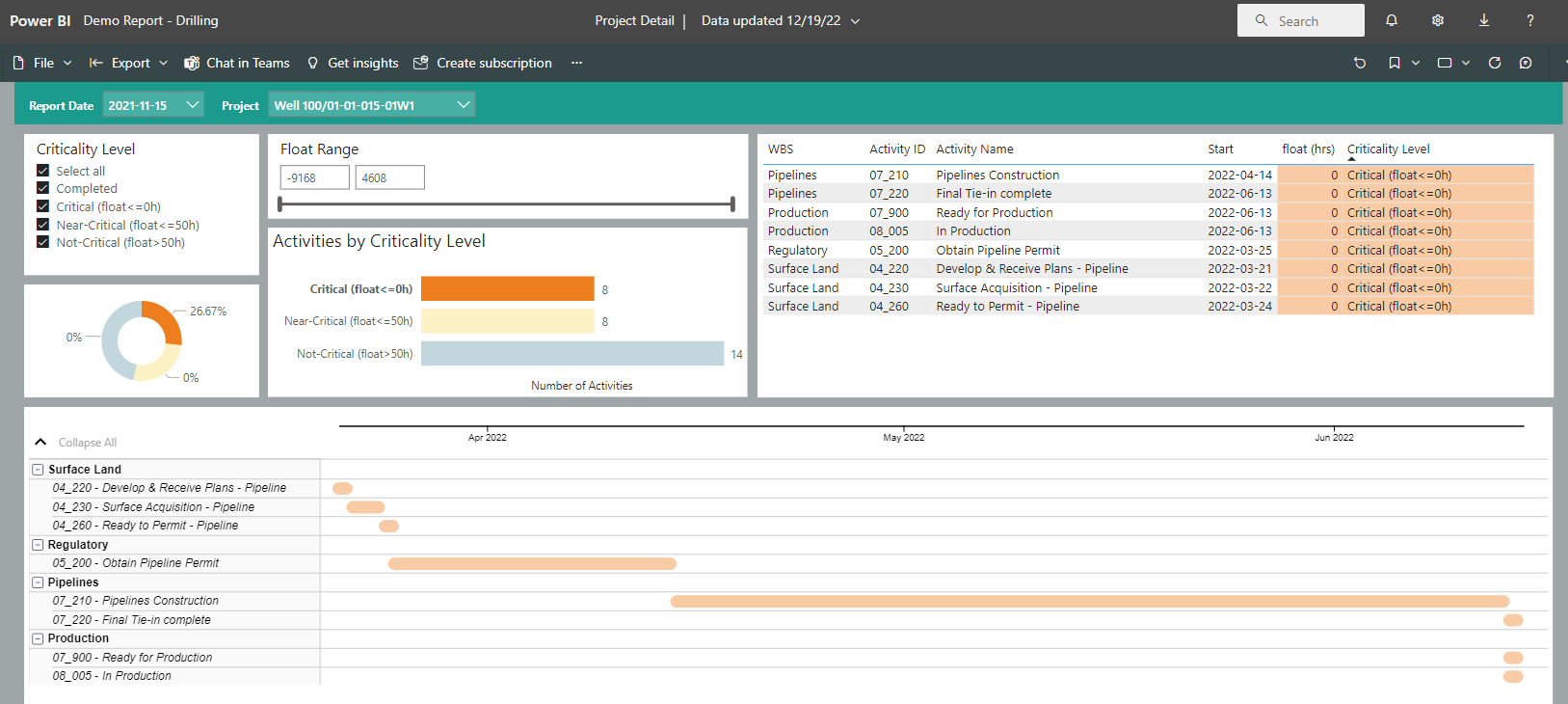 The Critical Activities are filtered/displayed in the Activity List (below).

The Critical Activities are also filtered/displayed in the Gantt Chart display (below).

Or filter for near critical activities, shown below. The same type of filtering can be carried out for Non-Critical Activities or any of the other Criticality Levels listed.
Valuable criticality information is available at your fingertips without logging into P6 or having to request a report. Use the dashboard filters to drill down the specifics you want to focus on.

Use P6-Reporter to streamline your communication and reporting by providing current information in an easily digestible format available at your fingertips.

No video selected.
About the Author
Mary Lynn spent many years filling a variety of project controls duties such as planning, scheduling, analyzing, training and continuous improvement in the Aerospace Industry. Since joining Emerald in 2008 she has been a tremendous asset to the Emerald team.