08 November 2018
Deviation Requests (DRs) – How are you handling them?
Are your deviation requests and approvals an entirely manual process? Do you have an easy electronic cross reference between activities in your schedule and specific Deviation Requests?
CAPPS – Take Center Stage!
A new feature in CAPPS is the ability to request a deviation against an activity id/submit it for approval, have a DR number assigned/tracked, and also have the DR approved (or rejected) right in CAPPS (with the information stored in P6). Requesting the DR, adding the DR number to the activity in P6 and the approval process using CAPPS with the information stored in P6 makes reporting on DRs and related activity statuses very quick and easy.
Only the users with 'Approver' security on their logins will be able to login to CAPPS and 'approve' items. To approve an item they must also be the Approver assigned to the submission.
Let's look at how this works:
First log in to enter updates in CAPPS, then go through the update tabs and enter all the updates required for activity status, resource status, expenses, steps, predecessors & successors. The new feature we want to look at is in the Deviation Requests / Approval tab. You can request a Deviation for an activity here (below).

Enter the DR Type/select DR Req; then Save Progress to go to the Progress Update Status window below – When you see the screen below, your information has been sent to P6.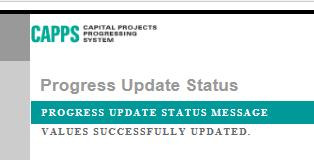 To make sure everything was entered correctly, go into P6 and go to the Project tab running the P6C – CAPPS Approval process. (Go is selected to run to process manually)

The Approver can enter the DR Number and any applicable comments in P6. When the Approver logs back into CAPPS and clicks to check the Approve box in the Deviation Requests/Approval Tab, then Saved Progress, CAPPS's approval is run in P6.

Now the activity details reflect the approval. The approval can be submitted at the same time as the DR Number and Comments, they do not need to be separate.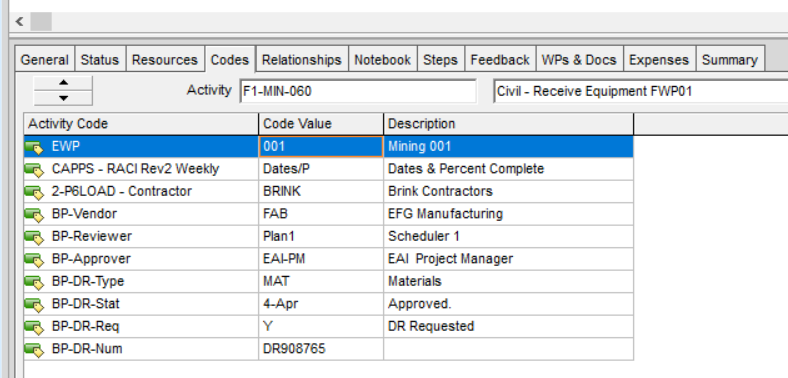 With CAPPS you can update information quickly, easily, and stop fighting with reconciliation of DRs/the activities they pertain to and activity status. It's all in your project schedule. You can set up filters/layouts and reports on this information as required to support your business processes.