16 December 2016
P6 Activity IDs - Wow That is Some Interesting Numbering
Struggling With P6 Activity ID Consistency - or Should we say Lack Thereof?
A very common pain point when trying to align project schedules to company or project SOPs (standard operating procedures) is ensuring activity id breakdowns are consistent (as outlined in your company schedule business processes). This can be a real nightmare especially if you are working with multiple contractors and engineering firms all with different structures and standards.
Who Cares - it is Just an Activity ID, let P6 Give it a Number?
Should we or shouldn't build intelligence into the P6 activity ID? This is an age old debate. When I used P3 (yes I did use P3) we only had 10 digits to work with, and we crammed a lot of smarts into those digits, believe me. We even had to go into exclusive mode to do this, but we did it.
Now that we have P6 and a much larger Activity ID to work with, and P6 lets you change them to your hearts content (BAD idea by the way - but that is another blog) we can really go crazy!
Building intelligence into the activity id is valuable and the P6-QA Tool can help you make sure the whole team is following the standards. Since the P6-QA Tool runs right in P6, it is easy to monitor this, every night we can run it or we can do it adhoc as we import new schedules for example.
Following the Standards
In the P6-QA Tool, one of the out-of-the-box business processes we have included is monitoring the activity ID formats. Each project can have their own standard if you want, but more than likely their will be some standards by project type. You start by entering the activity id format that you want to adhere to, then the P6-QA Tool electronically checks the activity IDs in the schedule against the format you have specified and it marks the activities with indicators to quickly and visually tell you the results – 'pass' or 'fail'. (Results are available on screen, in the notebook tab and in reports.)
In this example we have a 0% tolerance on non-compliant activity IDs.

As soon as any activity IDs fail to adhere to our format, a project level warning will go off. It's tough - since we can now see that we have not passed this check in our project, we will need to rollup our sleeves and get to work.

Luckily the P6-QA Tool also marks the tasks that we need to fix up with red indicators so we can get at them easily with a filter. We only have 8 to cleanup, so it is not too bad.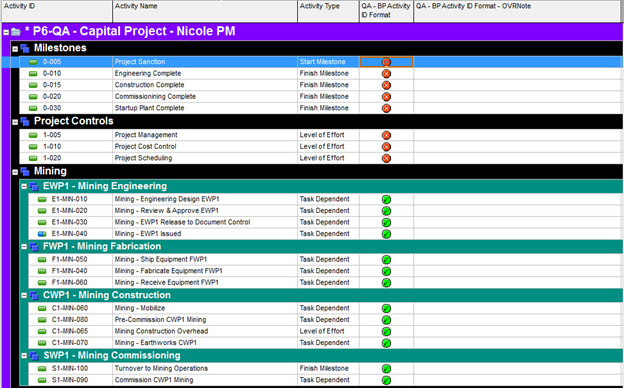 Milestones and Level of Efforts
Not only is there 8 not following the standard, these are milestones and level of efforts. These task types always cause more debate. How to name these activity types to make them standout from the "real work".
At this point we can correct the activity ID breakdown, or in this case it does not apply so we can use the Blue Star indicator as an override. We will also include a note to let the P6-QA Tool know that we have addressed this discrepancy and stop it from giving us any more false positives.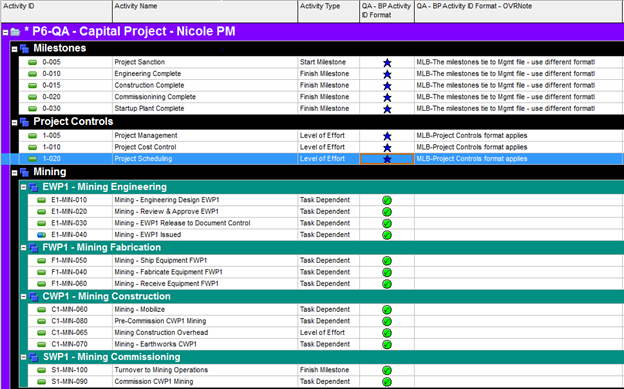 Then we can rerun the P6-QA Tool and after all our hard work, we should get a 'pass' indicator.