14 February 2018
P6-Loader v5 Usage Sheets Revolutionize P6 Database Maintenance
When you have a large number of users in your P6 database, it is surprising how quickly that database can get "clogged up" with a lot of unwanted data. This happens even when using Sandbox databases, restricting privileges and every other trick you have thought of; long time P6 users know what I am talking about.

Global data elements typically require ongoing attention to keep them clean. These include User Defined Fields (UDFs), Activity Codes, Calendars, Resources, Roles, and Cost Accounts. In P6, it isn't very easy to see where these data elements are used and then clean them up in a streamlined fashion. On occasion, I have resorted to getting our programming team to generate a database query providing detailed information on the data usage in the Primavera database. You won't have that luxury in all cloud environments.


In our latest release of P6-Loader v5, the new P6 Usage sheets make this easy even in a hosted cloud SaaS environment. They truly revolutionize our approach to performing database maintenance and cleanup and save us a lot of time on supporting our clients and having them support themselves.


Recently, we worked on a massive data migration project up to the Oracle Primavera SaaS for one of our customers in the construction industry. We had to merge four databases into one and do a lot of data cleanup and standardization: changing naming conventions, cleaning up data, creating new or deleting old data elements, etc. Having the P6 Usage sheets in the P6-Loader tool allowed us to generate the usage reports and make informed decisions on what needed to be deleted, renamed or merged. We then used P6-Loader to extract the areas we needed to work with, cleaned them up in Excel and then uploaded them back into P6.


You can get all this information quickly by going to the P6-Loader page and extracting the P6 Usage sheets!


Below are some examples of the P6 Usage sheets that were taken from our demo database.


Global Calendar Usage
You can see the activity counts for each project that is using the calendars, including baselines. You can also see what calendars are not used and what calendars look suspiciously like duplicates.



Activity Code Usage
The same holds true for activity codes. You can see where they are used and can identify problems, duplicates, and baselines that need attention.


Resource Usage
Resources are easily identified in this usage sheet so you can see where resources can be optimized, consolidated and even where some splitting would be beneficial.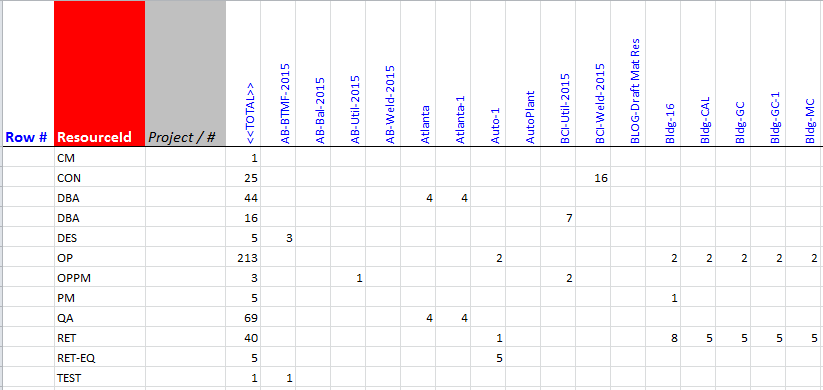 There is a lot of information that you can derive from these sheets such as what projects are using a particular data element, how many activities are using it, and understanding if there are duplicate data elements or multiple data elements that were created with the same purpose. Cleaning up the data using P6-Loader is easy and these new features in our version 5 release make it easier to know where to look!