P6-Reporter - Green Up and Racetrack Reports
Whether it is inspections, pressure safety valves, piping or other elements you are tracking in your P6 Schedule, you can use P6-Reporter Green Up reports which are easily created and maintained right from your P6 schedule. That is correct - no separate spreadsheets required!
Communicate progress using the updates in your schedule quickly and easily. The required Green Up report(s) are updated in P6-Reporter from the P6 schedule data. Green Up reports can easily be made available to you and your team using a number of different reporting tools (Power BI and Tableau are two commonly used ones). Green Up reports can be displayed on their own or as part of a self-serve dashboard containing other project data along with the Green Ups. Having current information available in an easy to digest format keeps your project team easily operating cohesively from current information and not struggling to ensure they are all working from the latest information. Eliminated is the need to roll up hundreds or thousands of activities to clearly identify exact status of an inspection, service, piece of equipment, or other schedule element.

The above display is a partial screen shot of an inspection summary Green Up report. Each inspection service is comprised of a number of activities. The user can click on the service column header to expand to see the activities if required. (Partial screen shot below.)

Provide a quicker, easier, less stressful option to your team. Don't have your team pull 'double duty' by having to update the schedule and then update a separate spreadsheet, or a spreadsheet and a wall display in a board room along with schedule updates. Streamline your project reporting and communication by providing your team self-serve dashboards. Don't forget that the snapshot process to feed the dashboards can be automated (or manual if you prefer), so having the updated project data feed P6-Reporter reports is not a labor intensive extra task you are imposing on your team.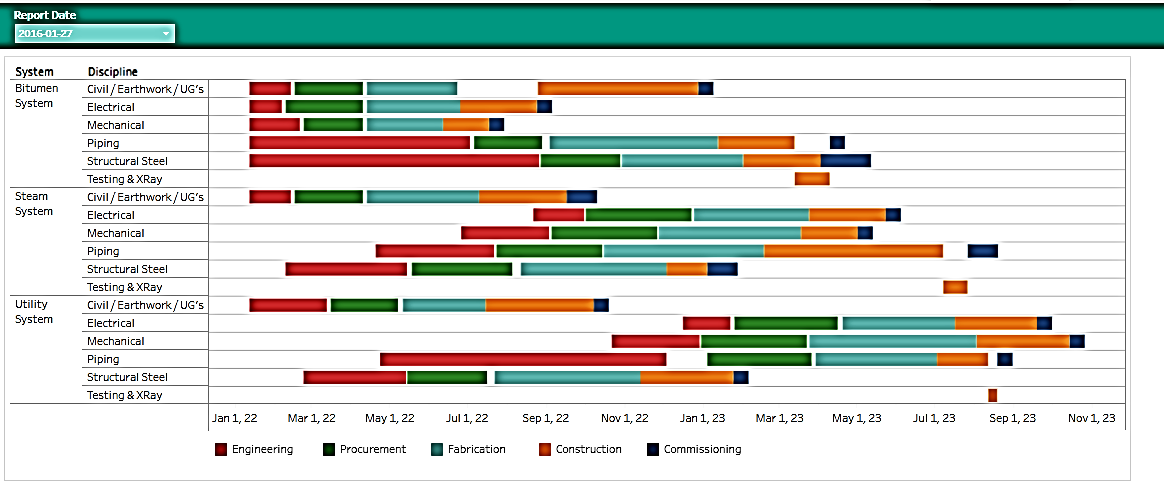 Perhaps a Racetrack report is another report that would be beneficial for your project? The Racetrack report is another of the many reports available in P6-Reporter – in this case, summarization over the timescale is by System and Discipline. Like the Green Up reports, the Racetrack report can also be provided to project teams as a single report or part of a self-serve dashboard. There are a number of reports available with P6-Reporter, and if you use P6-Reporter, you will be provided access to new reports as they become available. You also have access to the data and reporting tool to create any additional reports you may want to create yourself.

Provide your project team with current, easy to digest data and streamline your project communication and reporting at the same time! A win-win!

No video selected.
About the Author
Mary Lynn spent many years filling a variety of project controls duties such as planning, scheduling, analyzing, training and continuous improvement in the Aerospace Industry. Since joining Emerald in 2008 she has been a tremendous asset to the Emerald team.