P6-Reporter – Portfolio Summary Self-Serve Dashboard
In P6-Reporter, the Portfolio Summary Self-Serve Dashboard provides easy access to portfolio level information. In the screen shot below, the user has summary information for all the projects in the portfolio displayed. Across the top of the dashboard are easy-to-use filters allowing the user to filter for exactly the information they need to focus on if the entire portfolio is not their current focus requirement. The report date indicates the snapshot information being displayed, and the user can filter for other snapshots if required. Previous snapshots remain available for display. Keep in mind, the snapshot process can be automated or manual.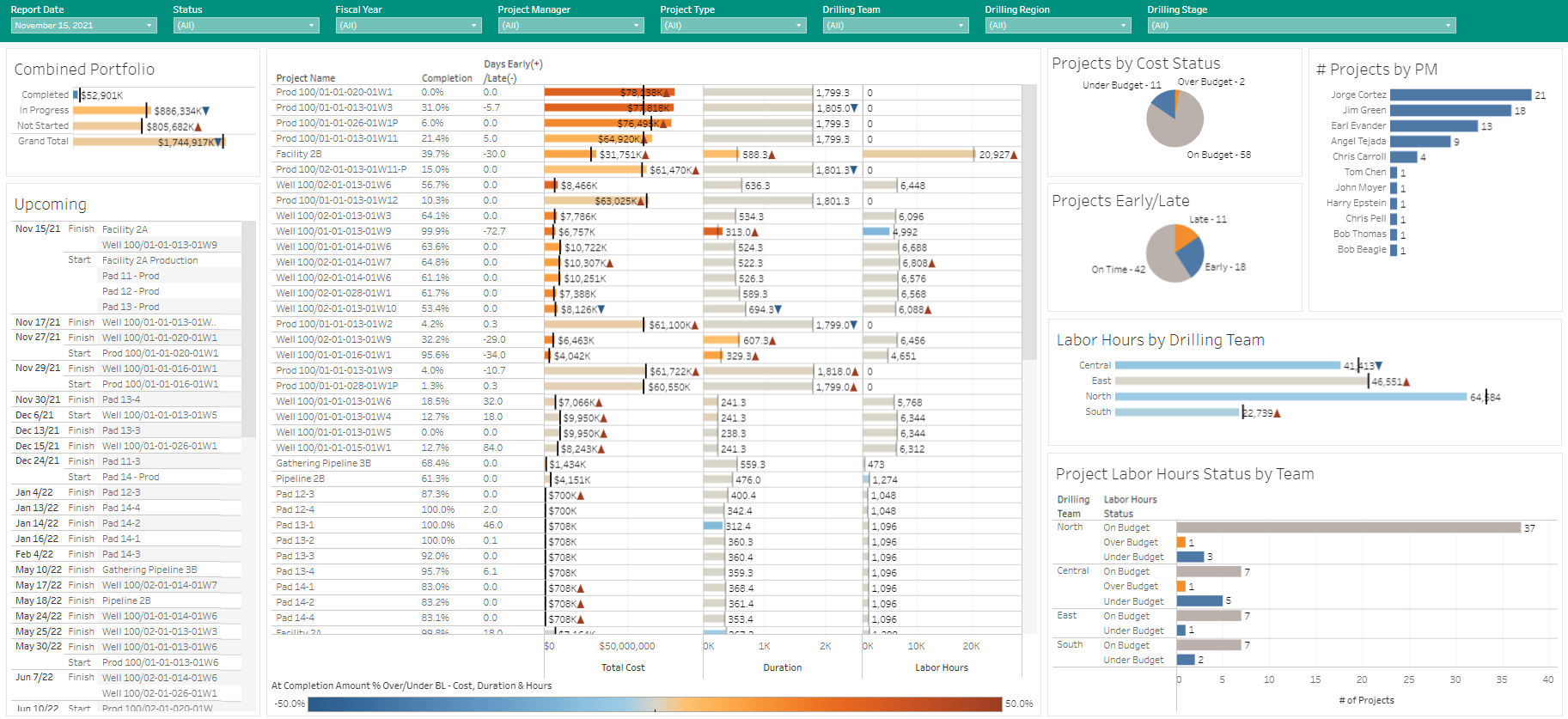 The dashboard has gradient color coding. This draws the user's eye to the darker orange/red colors which indicate the item is not tracking as it should. It is overbudget, late or over labor hours as applicable. Selecting or hovering over an item for a specific project displays details for that item as in the screen shot below.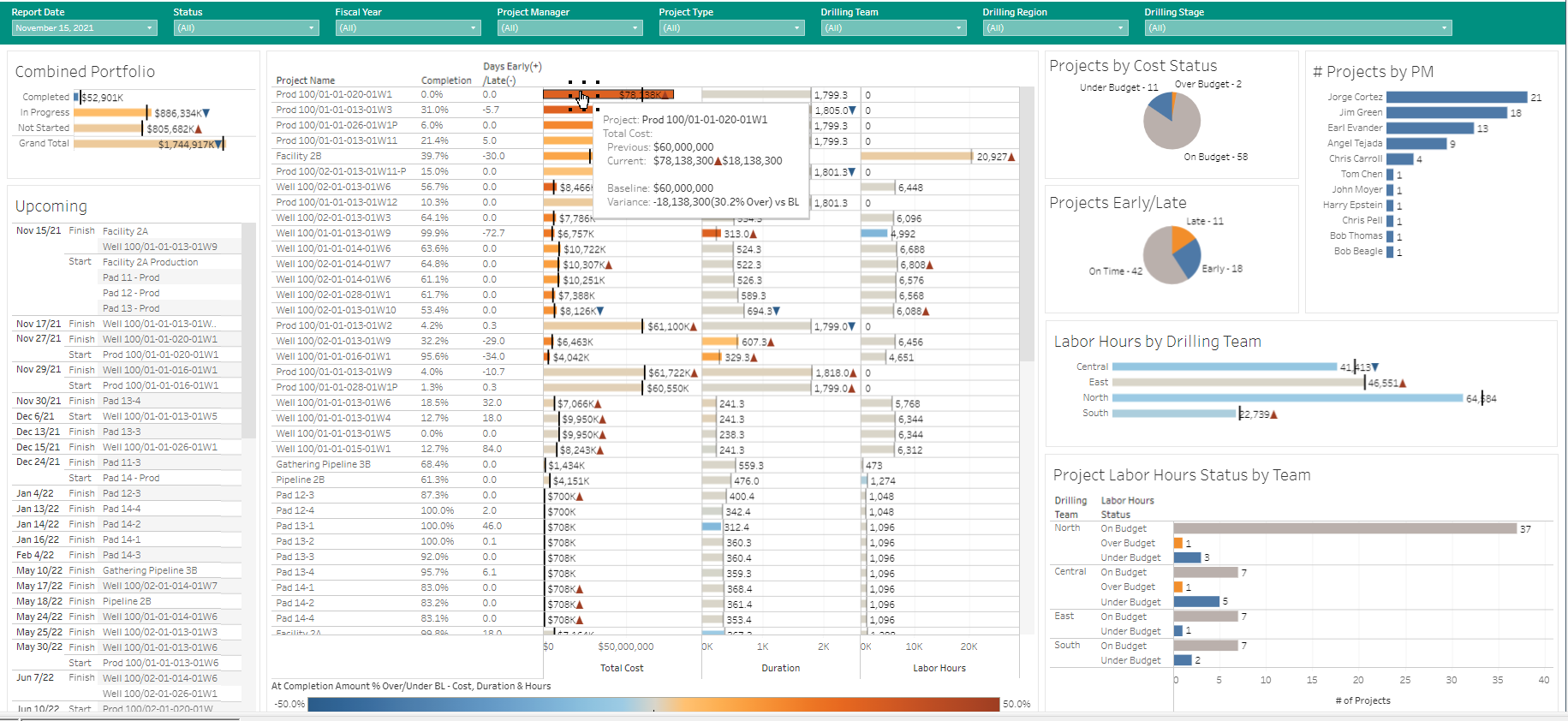 Setting the Project Manager filter to display just the first two project managers (for example) is easily completed by clicking the filter drop down and making the required selections. (Multiple filter criteria can be set for a display.) Only the projects for the two Project Managers selected are displayed in the dashboard in the second screenshot below.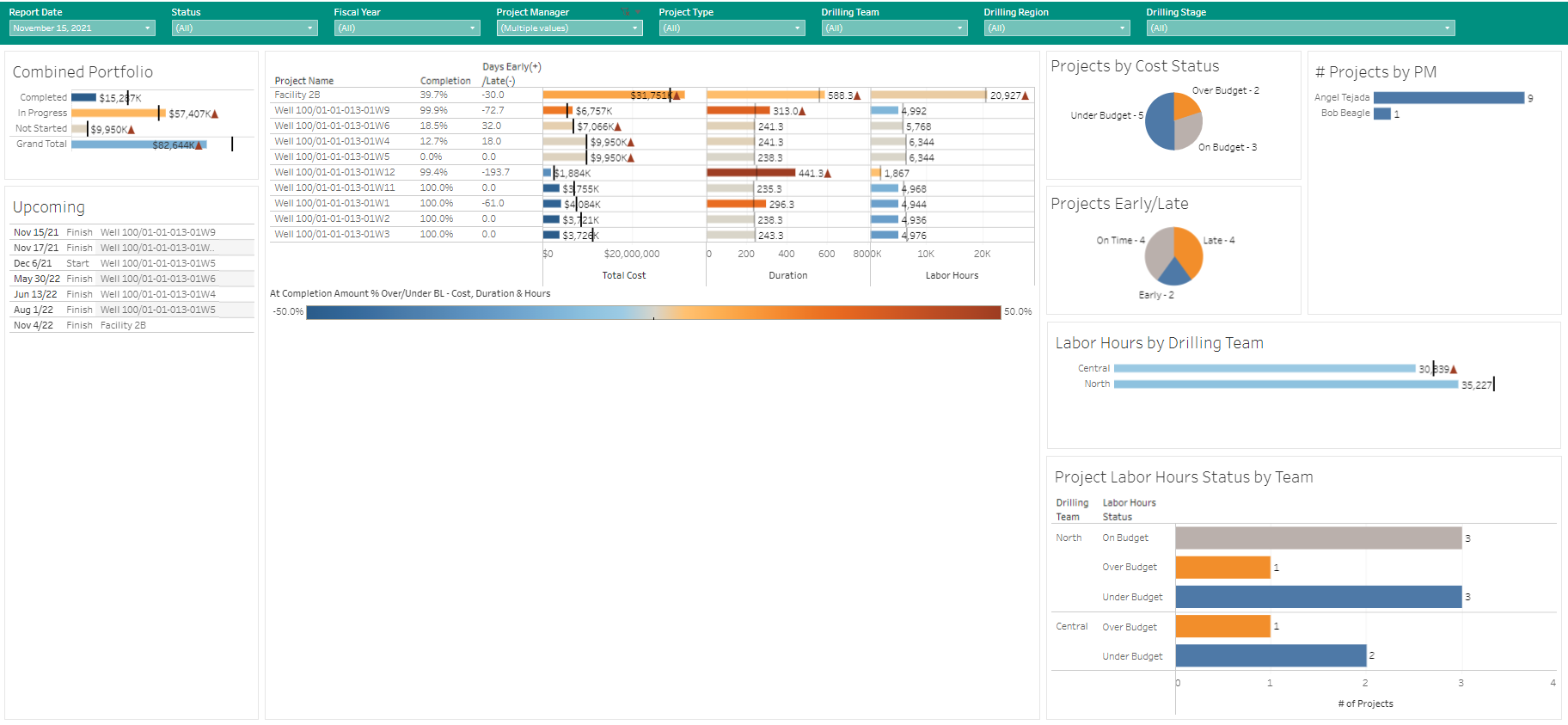 In the screen shot below, the project manager selection has been changed back to display the entire portfolio, but only the North drilling team has been selected now for display.

Now only the projects with the North Drilling Team assigned are displayed in the screen shot below.
Using the filter criteria gives the user easy access to drill into the portfolio information and focus on the specific area of focus required. Multiple filter selections can be used at the same time.

A number of self-serve dashboards are available in P6-Reporter and can be displayed using Tableau (as above) or a number of other reporting tools. The snapshot process can be automated or snapshots can be created manually as required. Creating manual updates is an easy process.

Ease portfolio communication with current information in an easy-to-digest format using self-serve dashboards. Equip your project managers with the best tools.

No video selected.
About the Author
Mary Lynn spent many years filling a variety of project controls duties such as planning, scheduling, analyzing, training and continuous improvement in the Aerospace Industry. Since joining Emerald in 2008 she has been a tremendous asset to the Emerald team.