Resource Curves and Activity Settings in Primavera P6
Your project schedule has been created with no resource curves incorporated. (Resource curves are not always required.) Suddenly, during project execution and reporting, the project is displaying issues. Budget labor, actual labor units and at completion labor units are out of sync. In checking your schedule, it is one section of the schedule which looks to be displaying the issue. You find one of the schedulers has added resource curves to activity resources. At the time of the change, a number of the activities already had progress posted to them. What can happen when resource curves are added or changed after progress has been posted to activities? (Please note this is an example of what can happen given the settings and information scenario that was present at the time. My intent is purely to share what can happen.)
Below is a small sample file for the purposes of walking through the calculations. The three activities below all require the same resource (Pipefitter), and Activity A has no resource curve assigned. Activities B and C have resource curves assigned.

The project has a baseline attached.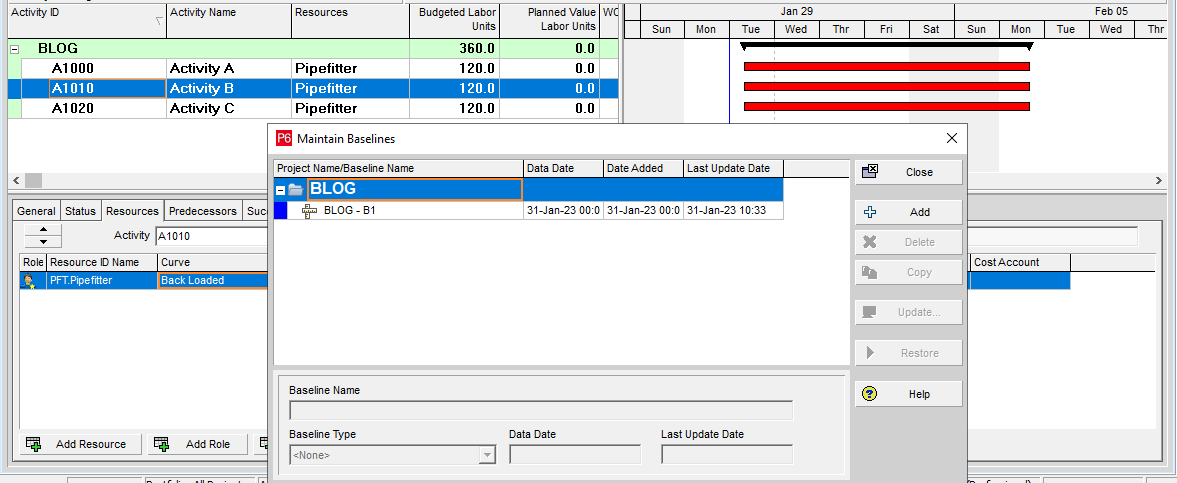 Activity B and Activity C have been progressed. Activity B has the Front Loaded curve assigned.

Activity C has the Back Loaded curve assigned.

This is where things were changed up. If you need to change the distribution of the remaining resource units, please be aware of the all settings and status so any recalculations are not a surprise. In this case, we will 'change out' the existing resource curve. Keep in mind that this activity has progress (some actuals already reported).

We have changed the Back Loaded curve assignment to a Front Loaded curve assignment on Activity C. The actual labor units and at completion labor units are recalculated.

The resource curve assignment on Activity B has been changed out. Note the At Completion Labor Units remain at 120. This activity is Duration Type Fixed Duration and Units, preserving the original value.
It may appear a point not worth mentioning to some I am sure, but recently during an investigation with a client into why a schedule they were executing suddenly displayed actual and remaining units changes that were cause for concern, it was revealed that the root of the issue was resource curve changes.
Resource Details Settings: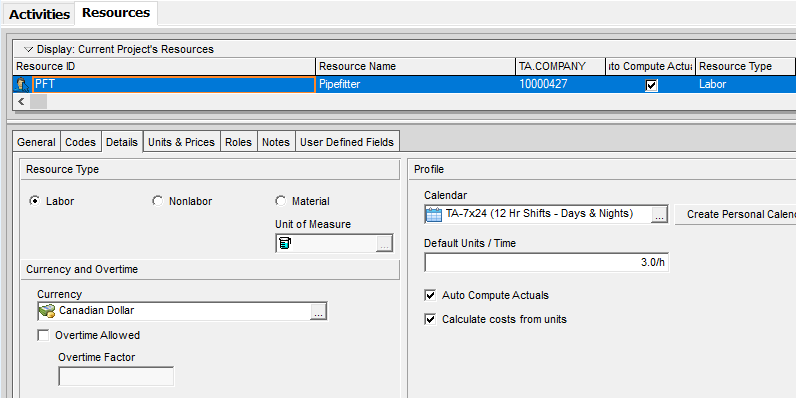 Project Calculations tab settings:

Calculation tab settings in user preferences: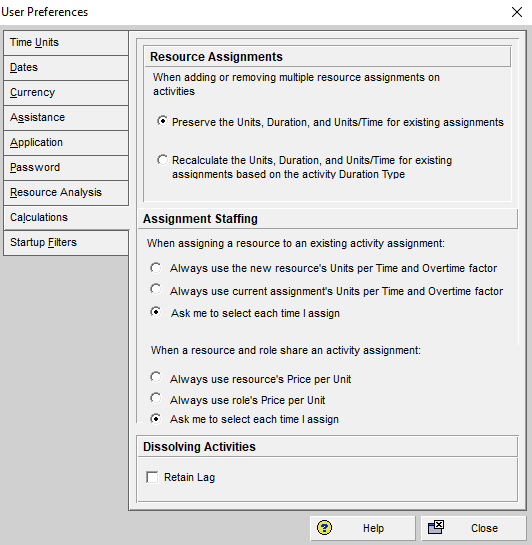 The "food for thought" scenario above is a simple reminder to be aware of activity settings and progress when making changes that can produce recalculations of elements. Don't let the recalculation catch you off guard.

No video selected.
About the Author
Mary Lynn spent many years filling a variety of project controls duties such as planning, scheduling, analyzing, training and continuous improvement in the Aerospace Industry. Since joining Emerald in 2008 she has been a tremendous asset to the Emerald team.