20 June 2017
Team Member - P6 Version 16.2
There Are Some Great Improvements To Talk About
As longtime users of Primavera P6 and Timesheets, we were pleasantly surprised to see some great improvements in the timesheets part of P6 v 16.2. The approval portal, which used to be very hard (I would even say impossible) to work with, is now much easier. Oracle has particularly improved the ability to find what timesheets need approval, and there is better adherence to layered approvals by the resource and project managers. Both of these tasks used to be ordeals in the previous versions.
Team Member Tasks
To take advantage of Team Member's newest features, we needed to revisit some of our project settings with the new version.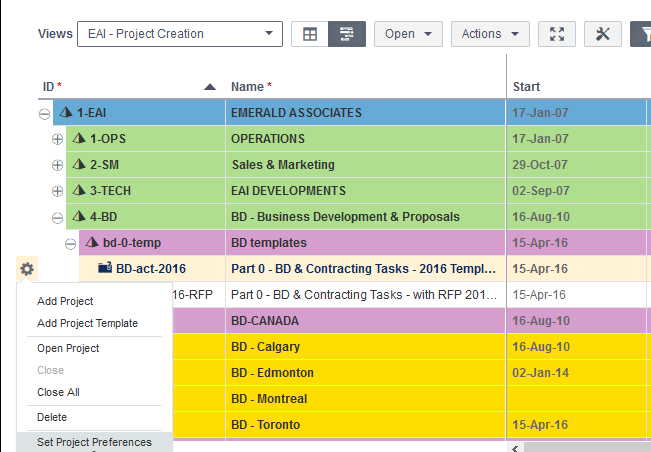 Under project preferences, we needed to set the Team Member flags and make sure we were happy with our choices. Now you can be very elaborate with the settings and mix and match as needed. This is great if you need different functionality depending on the types of projects you are doing. For example: if you are working on an internal operational type project versus a client facing project.
For our client facing activities, we use timesheets to gather our hours, and we have built our own Timesheet Notes portal so that we can take notes right down to the hours in a day. We also built an integration to QuickBooks so we can print our hours onto invoices without any retyping.
Each resource uses the timesheet component to input their time each day. This will go into the actuals. Then we have allowed them to also input remaining units as a best guess for the hours they still have left to work on the task.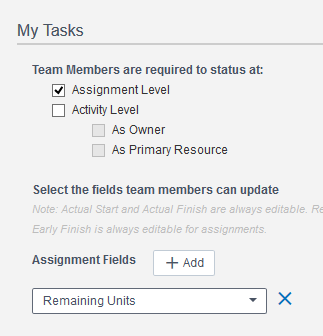 Our primary resource needs to be able to let us know where the task is at for activity level updating, so we have allowed the activity percent complete and the expected finish to be input.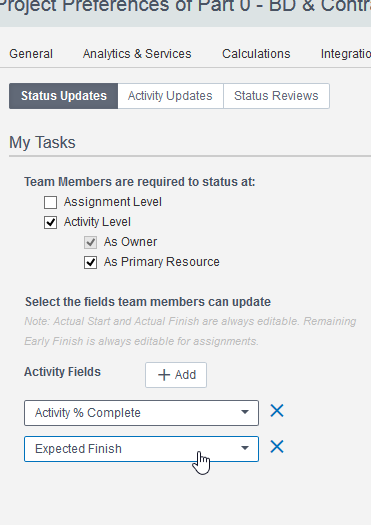 When our team is working in the activity updating area of Team Member, we allow them to work with steps and notebooks, but we do not allow them to touch the resources or assign themselves to projects. They can also see some codes and UDFs so we can use P6 to report to the client on how we are doing.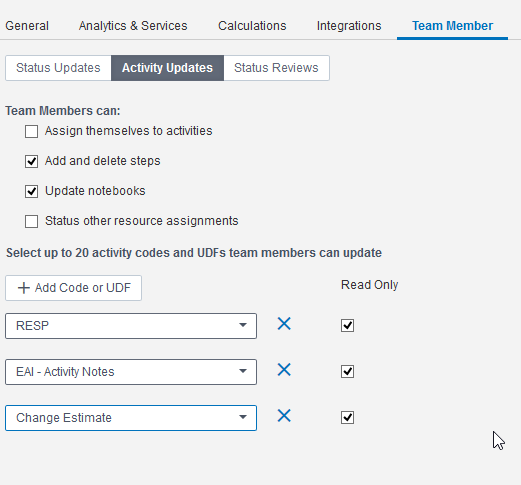 The Team Member updates are not reviewed independently from our timesheets, so we allow them to go into P6 without any reviewer.
For projects that are internal or operational in nature, we can set up Team Member a bit differently.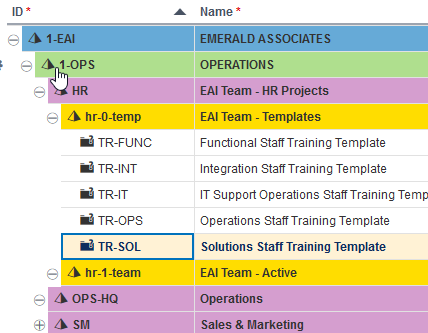 These projects might include general staff meetings, self-study, internal training, ongoing tools development and internal scope.