13 February 2017
The Fastest Way to Cancel Activities in Primavera P6
Automate the Process of Updating Cancelled Activities in Primavera P6 with our Barcode Updating Technology
When planning a turnaround project you want to make sure you include all the tasks that will happen and even those that might happen. This is a great strategy in the planning phase because during the actual turnaround, you don't have time to add all of the "potential" activities that become necessary.
Now the dilemma becomes, how to cancel the tasks that your team doesn't need after all.
You could process the updates for cancelled activities using manual data entry, dealing with logic, manhours, and baselines, but if you handle a lot of these it becomes time consuming, tedious and frustrating. Lets face it, during a Turnaround that is just not a good idea. You might think that dissolving is good enough, but is it?
TAPS – Primavera P6 barcode updating software, has a built in 'Cancel' function that does away with all that data entry.
Don't let the name fool you – TAPS is barcode updating but it has more functionality than just the usual activity scanning and updating activity percent complete portions. The 'Cancel' feature in TAPS goes above and beyond this functionality. By scanning the activity id barcode into TAPS and then scanning the 'Cancel' barcode you can tell TAPS that this activity has been canceled with two scans in less than 5 seconds.
When the update is sent to P6, not only is the activity posted as completed (duration/budgets/units/cost update requirements), all the original activity information is also retained right in your project schedule file if the team later needs it back, and believe me this has happened to me more than once.
TAPS holds the info you need for easy reporting of earned value, progress by crew etc.
Planned Duration
Remaining Duration
Planned Labor Cost
Planned Labor Units
Planned Non Labor Units
Planned Non Labor Costs
Remaining Labor Cost
Remaining Labor Units
Remaining Non Labor Cost
Remaining Non Labor Units
Cancelled Work
Predecessor
Successor
In TAPS we simply choose our options by selecting "Dissolve Cancelled Activities Logic", setting the Data Date (Update Time), and scanning the Activity ID Barcode for the activity we want to update.
Scan the 'Cancel' Barcode then click 'Save Progress' to send the update to P6.
(Most often the update would contain more than one activity – our sample will be just one activity.)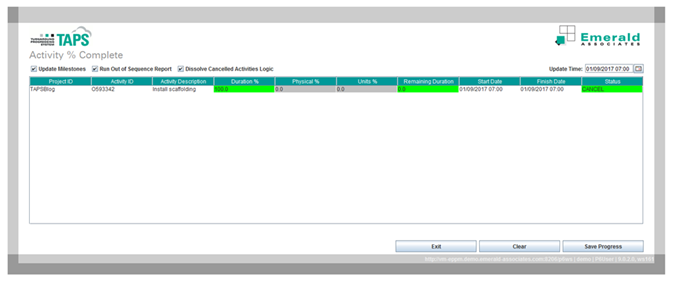 We checked the 'Dissolve Cancelled Activities Logic' check box in TAPS and the logic has been dissolved (below).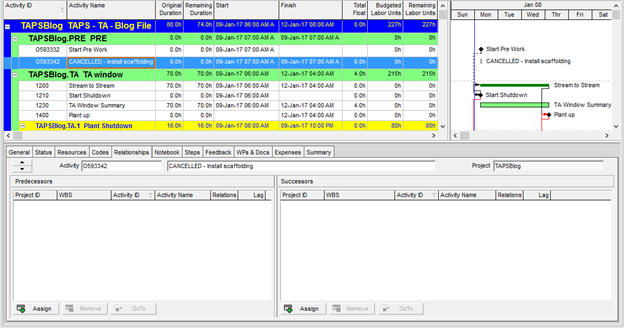 Activity ID '0593332' is now predecessor to Activity ID 1210.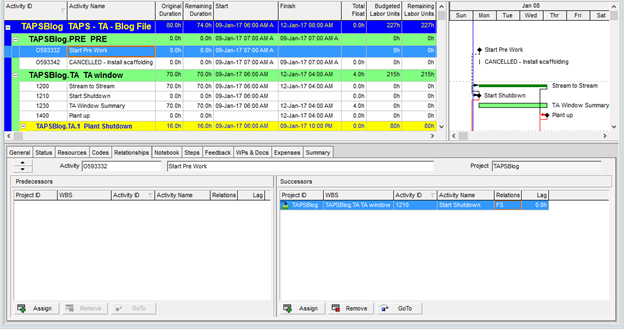 The Resource information has been updated - your project reports will not be negatively impacted.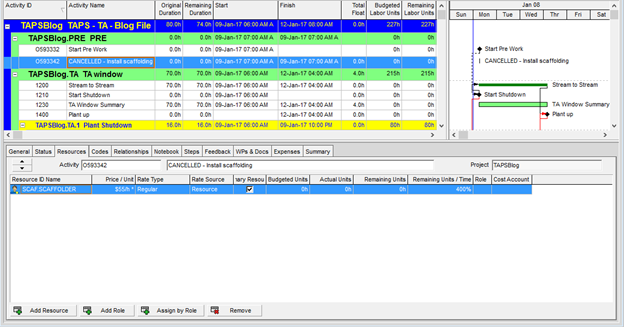 Status details are updated and visible in activity details.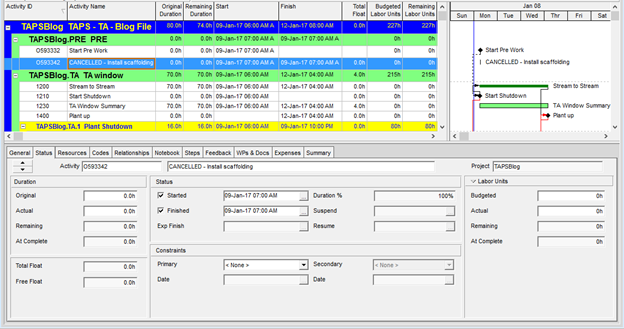 We can see Status Details as columns (sample of some elements below).
We have confirmed that the TAPS update has left the activity in our schedule, with the status updated so the activity will not negatively impact our project reports – it has been 'Cancelled' as labelled in the Activity Name.
The original activity information is also retained with the activity during the status update (below).