Accuracy
The fact that the spread data is calculated means it is only an approximation of reality. Oversimplifying somewhat, the time-distributed values are calculated by dividing the total value by the total duration. If I have a resource assignment on a three month activity with $30,000 of actual cost, the spread will show me that I did $10,000 each month, even if in the event I actually incurred $5,000 the first month, $15,000 the second month, and $10,000 the third month.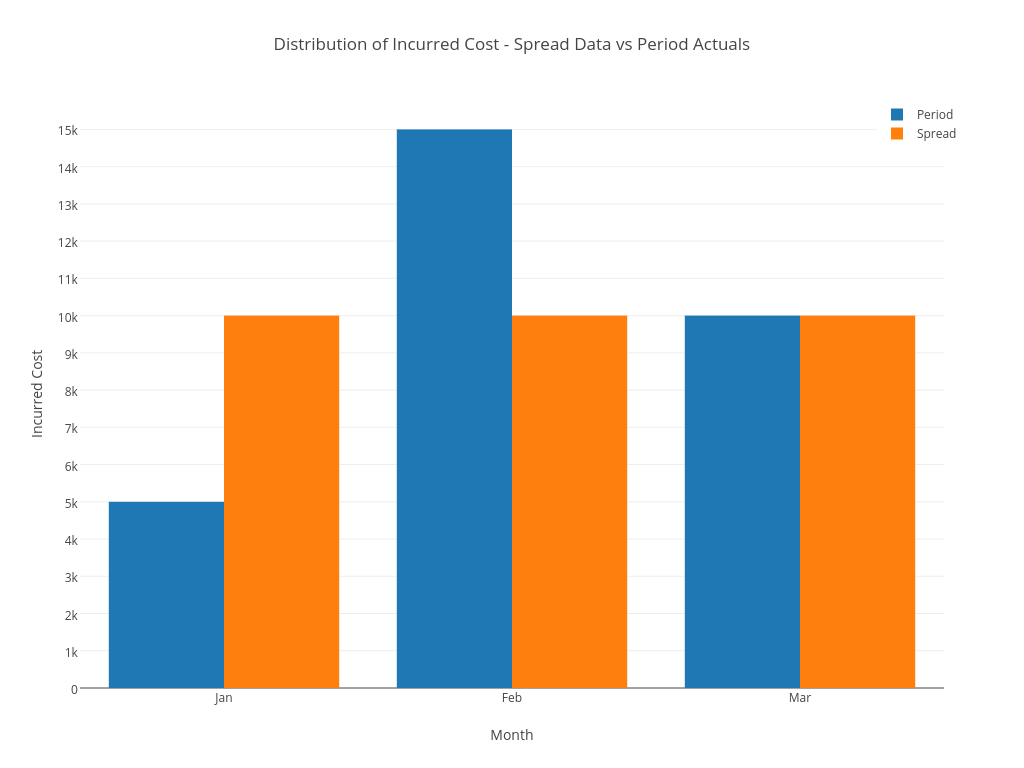 By contrast, values in financial period actuals are not calculated, they are stored. If I have monthly financial periods and did the same thing, the financial period data will accurately represent when the cost was incurred. It doesn't need to guess – it knows exactly what the amounts were because I told it when I stored that information into the period actual for each month. Sometimes you need this accuracy, especially when you are dealing with cost.
Flexibility
Financial periods must be defined in advance, and the period actuals must be allocated to these predefined periods. If my financial periods are by month but I want to see it by week instead, I can't do that – at least, not without giving up the accuracy that makes financial period actuals attractive to begin with. I can still view it by quarter or by year – I can reduce the granularity without sacrificing accuracy, but not increase it.
On the other hand, the fact that spread data is calculated means that you have flexibility in how you want to look at the spread data. If I am looking at the spread data by month but I want to see it by week instead, I can do that – it just recalculates.
Primavera Analytics
Primavera Analytics supports financial periods as a dimension on the spread. That means that information in the spread data can be viewed by financial periods. You can filter the spread data by financial period. You can group the spread data by financial period.
What you can't do is report on financial period actuals – at least, not out of the box. The Primavera Data Warehouse does not store financial period actuals at all. In order to get this to work, you would need to alter the PDW schema and customize both the Star ETL process and the OBIEE catalog.
EP-datawarehouse
Depending on the use case, our EP-datawarehouse might be a suitable alternative or supplement to the Primavera Data Warehouse that is a part of Analytics. Our EP-datawarehouse captures financial period actuals out of the box. Using this information in Primavera Analytics is possible. It would still require customizing the OBIEE catalog, but no schema or ETL changes would be required.
For more information please contact us or take a look at our product pages for EP-datawarehouse and Primavera Analytics.